The student building, Studenthuset – a new gathering place for students
In early September, the new student building, Studenthuset, located next to the A building of Södra huset, will be inaugurated. The Student Services will move there and they will offer various kinds of services to students. The building will also contain study areas, study rooms, an information desk, a café, a Student Union office and other student services.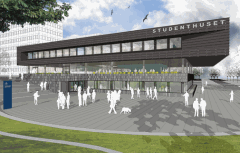 Illustration: ERSÉUS ARKITEKTER AB
Studenthuset will be the obvious focal point for students at Stockholm University and the location for the activities of the Student Services. Units moving to the Studenthuset include the Student Information Desk, the Study and Career Counsellors, the Admissions Office, the Degree Office, the Coordinators for students with disabilities, the Academic Writing Service, the Student Health Service, the International Office, the Coordinator for equal treatment of students, the application management for Ladok and SISU and the VFU Secretariat.
New information desk in the student building
The information desk in the student building will be a central location where students and visitors can get study-related information, and also answers to questions of a general nature. The focus will be on study information but the staff will also have general knowledge of other activities at the University. Information about the support available to students before, during and after their studies will be available, as well as general information about the University - for example, how to find a specific place, where and when a specific event occurs, and support to IT-related issues. The University's profile products and gift items will also be available for purchase here.
Study areas and study rooms
In the student building, there will be a study area with about 150 seats, mainly for those who want to work on group projects. On the first floor, there will be approximately 60 seats for individual study. These will be overlooking the garden of the student building. The cafe will have about 140 seats, where one can also sit and study outside of lunch hours. Wireless internet access will be available throughout the building.
Touchscreen table and information on today's activities
Next to the information desk there will be a digital touchscreen table with a map of the campus and computers available to visitors to search for information about opening times and events, courses and programs, and much more. Today's activities will appear on digital screens. Space for exhibitions and events will be offered to companies, organisations, departments and others. The student building will be permeated by openness, with a lot of natural light coming in through the large glass sections.
"This will be a stimulating and creative environment that welcomes students and visitors," says Jorge Win at the Student Services who is responsible for the planning of activities in the student building.