Conferment of Master's Degrees
EVENT
Date:
27 October 2017, 6.00 PM
-
27 October 2017, 9.00 PM
Venue:
Aula Magna, in Frescati
Twice a year students who have completed a degree at an advanced level will be conferred their Master's degrees in Aula Magna. Next ceremony will be held on 27 October 2017.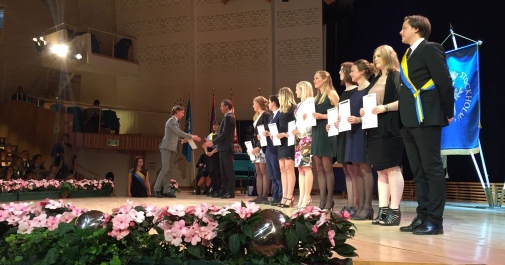 Watch it live on su.se/play from 6 pm.
About the ceremony
The Conferment of Master's Degrees is an old academic tradition but a fairly new ceremony at Stockholm University. During the ceremony the graduates (promovendi) step up onto one side of Aula Magna's stage and, after having received the diploma, leave by the other side. This used to symbolize that they will now move forward in life, and have the right to teach others. Today it is a memorable occasion to celebrate your Master's degree!
The ceremony is held in the great auditorium of Aula Magna and is followed by a reception with music in the Gallery and Foyer.
Invitations
To be invited to the ceremony it is necessary that you apply for your formal Master's degree (or equivalent on a Master's level) before a certain date. For details on the coming ceremony plese follow the link below!
Coming ceremonies
The Conferment of Master's Degrees is held twice a year, generally the last Friday of May and October, respectively.
* Friday 27 October, 2017 (registration closed)
* Friday 18 May, 2018, preliminary
Previous ceremonies
Please read about previous ceremonies and see photos and films by following the links below.