Nominate "The Teacher of the Year" 2012
EVENT
Date:
15 March 2012, 12.00 AM
-
15 March 2012, 11.59 PM
Do you have an outstanding teacher or colleague who should be rewarded for their inspiring teaching? As a student or as a member of staff you can nominate a teacher at Stockholm University for the prize "Teacher of the year 2012". Nominations can be made until the 15th March 2012.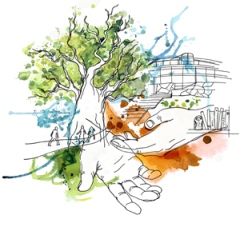 "The Teacher of the Year" 2012
The purpose of the prize is to encourage teaching of the highest quality and excellent undergraduate education.
The prize Teacher of the Year 2012 will be awarded to academic staff who through the way in which they teach create favourable conditions for students learning by, e.g., using stimulating and engaging methods of teaching (lectures, examples classes, seminars, practical exercises, group work, tutoring, etc.), providing constructive feedback, and employing carefully designed methods of assessment.
By awarding a prize the university wishes to acknowledge and draw attention to teaching which supports excellent student learning.
The purpose of the university's pedagogical prize is to acknowledge good efforts in teaching and their impact on student learning. Your nomination will help the university to give high priority to teaching and pedagogical development.
More information and a web form for nominations can be found at www.su.se/english/about/pedagogical-prize.
Nominations are processed by the university's Centre for Learning and Teaching (UPC). Prize-winners are decided on by the Vice-Chancellor following a proposal from the university's Council for Pedagogical Development (RUT).
This message has been sent by the Centre for Learning and Teaching (UPC) who will be happy to help you with your nomination.
Last updated: March 2, 2012
Page editor: Annika Forslund
Source: Centre for Learning and Teaching (UPC)