Prime Minister Fredrik Reinfeldt gave lecture at the University
On Tuesday 6 November, Swedish Prime Minister Fredrik Reinfeldt held a lecture on the topic "How to run a state."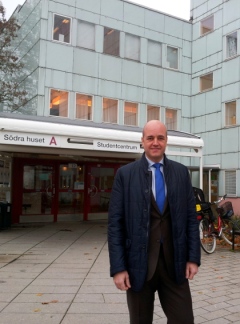 Fredrik Reinfeldt at Stockholm University
The lecture was part of the course Swedish Politics, but all students at the Department of Political Science were invited. The lecture hall was full and expectations were high when Reinfeldt entered the room. He talked about the upcoming elections in the US and that the forthcoming elections in China will also be an important issue. He pointed out that the lack of knowledge about China is a concern, because China's economy is expected to outgrow the US economy in the next five years. Therefore, China is a very important player in the globalized world.
Concerned by the Sweden Democrats
Reinfeldt also spoke about the Swedish form of government, and said that it is fun and rewarding to be politically active in Sweden because voters here are still making positive choices - the vast majority of citizens vote for a party and a representative they think is good and who can represent them in a good way, rather than to vote against parties or representatives. In connection with this, he expressed a concern that the Sweden Democrat Party is a symptom of a more negative view on voting, ie voting to express disapproval.
Classic social democratic policy?
Questions from the audience ranged from arms exports, Russia and the EU to questions about the Sweden Democrats, migration and the Roma. This topic of discussion that generated the most heat was when Reinfeldt was asked if it is not the case that the "New Moderates" actually have adopted a classic, social democratic policy agenda.
Alumnus of Stockholm University
Fredrik Reinfeldt has studied at Stockholm University himself. He is an alumnus of the University's School of Business.
Text: Maria Jansson and Daniel Holmberg