Being in a cold country with warm people
Twenty-two year old Selen Gökkaya from Turkey spent five months in the capital of Sweden studying mathematics. One week after her return to Ankara, she wrote us a letter to tell us how much she was missing Stockholm.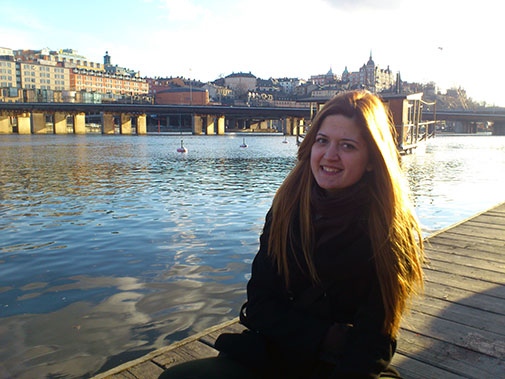 Now it's been a week since I left Stockholm, I look back and see how lucky I am that I chose to go there as an exchange student. Now I see how beautiful it was being in a cold country with warm people. Yes, I said warm people, surprisingly enough, because even though they are quiet, Swedish people are very sincere and helpful with their perfect English whenever I needed them. After a while, going somewhere for the first time or doing something I hadn't done before didn't scare me at all because I knew that nice Swedish people were ready to help me learn, which is very important as an exchange student because you start everything from scratch. The city was already so beautiful with all the snow – despite the cold – but it became even more beautiful with the upcoming spring.
I didn't find enough time to visit all of the remarkable places in and around Stockholm in my five months there. Yet, I found so many nice people. Besides the Swedish, I met my international friends from all around the world thanks to Stockholm University having lots of exchange students and activities for people to get to know each other. Even though it has been only one week, I already miss walking around Djurgården and Gamla stan, taking salsa and bachata classes for free with international participants from all of the universities in Stockholm, having a barbecue with my lovely friends from my home in Norrtälje, or somebody saying "there's a cruise for only 80 SEK to Tallinn, Helsinki or Riga; let's go there!" and finding ourselves in another beautiful neighbouring capital of Stockholm.
Missing all of that, wanting to go back so much having lived in the midst of all of this, shows how right I was in choosing Stockholm as my Erasmus destination. Now, approaching my last year of my Bachelor's, I am thinking about making my dreams come true and going back to Stockholm for my Master's degree. It will be a good motivation for me to finish my studies with good grades so that I will be accepted and meet with my lovely city again. Right now I have no idea how to stand being away for one year. But anyways, I hope to see you soon again beautiful Stockholm, like your other guests from all over the world who went back home, somebody is also missing you from the capital of Turkey!
Text: Selen Gökkaya