Elissa Berrill from Canada, student in Environmental Protection and Physical Planning
Elissa Berrill from Canada was attracted to studying at the Physical Geography Department for a Master's in Environmental Protection and Physical Planning at Stockholm University partly because Sweden is known for its environmental policies and research in the field of climate change.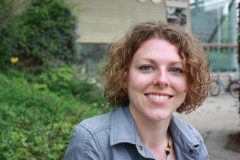 "Honestly, every single student I have met loves it in Sweden," says Elissa Berrill, Winner of "Most Engaged International Student Award".

Photo: Jon Buscall
"I thought that studying in Sweden might give me a unique perspective compared to my Canadian counterparts in similar programmes," says Elissa. "That might help me get a job in the future. It's a bit of a gamble, I know, but time will tell."

As far as Elissa's concerned her master's programme offers great research opportunities.

"I'll be going to Latvia to do research on governance and community at a UNESCO Man and the Biosphere Reserve during the year," says Elissa. "A fellow Canadian in the Human Geography Department went to Durban, South Africa, to do research about the impacts of the FIFA World Cup on street vendors. These types of research opportunities and the ability to visit new countries are simply not as common in Canada."

Elissa is also positive about the teaching at the University and the courses she's taking.

"I have much more personal relationships with professors here than I did in Canada because the programs are smaller. Stockholm University provides amazing opportunities for students to get involved – both in their studies and outside the classroom," says Elissa.

With the clock ticking, Elissa is keen to make the most of her final year.

"I know that I will feel much more prepared for the job market when I leave, with skills that will help me get a job."

Still, it might prove harder to leave than you'd think.

"Honestly, every single student I have met loves it in Sweden, has trouble leaving, and often comes back to visit, or even to study further," says Elissa. "The feeling of belonging one gets as an international student on campus is huge.

Stockholm University offer leading research within the field of Climate, Seas, and Environment and a first step to study this would be to take the course The Earth's Climate and Climate Change offered as part of the Stockholm Summer School.

This introductory course describes central climate processes like energy transports, radiation balance, the greenhouse effect and climate variations. The course will demonstrate how the large-scale circulation in the atmosphere and oceans creates the Earth's climate zones. The course also looks at basic outlines for weather forecast and climate models, as well as scenarios for the Earth's future climate. A key subject is the anthropogenic effects on the Earth's climate, mainly through the emission of greenhouse gases.