Shauna: "I feel very lucky to be studying at an international research centre"
"I find that Sweden is a place that really fosters forward thinking about environmental issues. I've also found that in general, people here have great attitudes towards solving such complex problems. I feel very lucky to be studying at an international research center that really is one of the leaders in transdisciplinary social-ecological research," says Shauna Mahajan, Master's student at Stockholm University.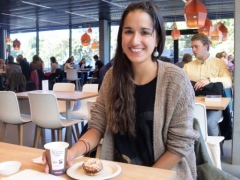 Shauna Mahajan, age 24, a Master student at Stockholm Recilience Centre
It's so exciting to be in such an innovative and creative environment on a daily basis, where I get the chance to meet researchers and students from all over the world.
These are words by Shauna Mahajan, age 24, who is a Master's student at Stockholm University. She is on her second year of a program titled Social-ecological resilience for sustainable development. Her Master's thesis will explore how different groups of people benefit from ecosystems within the context of marine protected areas in Mombasa, Kenya. The project will be linked with ongoing research at the Stockholm Resilience Centre, as well as research with a local NGO based in Mombasa.
This program is exactly what I was looking for, says Shauna. A unique blend between theoretical science and hands-on, practical and applied research. The second year of the program has been great, as now all the Master's students are really embedded in the research work at the Centre.
Shauna grew up just north of Boston, Massachusetts and did her Bachelor's at McGill University in Montreal, Canada. After completing her degree, she did a summer internship with the World Wildlife Fund in Washington DC before returning to work McGIll for several years as a research assistant. Now she is soon off to complete her fieldwork for her Master's thesis in Kenya for two months. She will return to Stockholm in January to complete the write-up of her thesis.
She has enjoyed the Swedish way of life so far, and despite the darkness of the winter, has managed to find lots of cozy winter activities to keep her busy. She lives just 15 minutes north of the university in a quiet town in a shared house. After living in cities for many years, she finds it refreshing to be out and close to nature, with lots of walking and skiing trails nearby that lead to a lake -- perfect for swimming in the summer and skating in the winter.
After completing her studies she is considering staying in Sweden to continue to work within the realm of for sustainable development, preferably working to better connect business with resilience and sustainable thinking and practice.
Challenge Your Perspectives 2013 for US graduates:
What you have to do
Sign up and complete the online competition – this includes:
Answering multiple choice questions
Answering a short case question
Writing a motivational statement
What you can win:
Find the competition, as well as its rules and eligibility here:www.challengeyourperspectives.com
Read more about last year's winner here.
Last updated: October 14, 2013
Page editor: Carolina Cassel Andrén
Source: External Relations and Communications Office