My rewarding experience studying at Stockholm University
Studying in the D building of Södra huset at Stockholm University.
I came to study at the Institute of International Education, Department of Education at Stockholm University in August, 2010 and successfully passed the thesis defense and obtained my Master's degree in June, 2012. Then I continued to take the course Swedish as a Foreign Language at the Department of Scandinavian Languages so as to acquire basic Swedish language qualification, expecting to complete the current course at the beginning of next year. Both of my learning experiences have been very rewarding and memorable.
Rich academic resources, professional curriculum and Stockholm's pulse
What attracted me to Stockholm University lies mostly in three aspects. Firstly, it is one of the world's leading institutions of higher learning with outstanding scholars, rich academic resources, and the ideal environment to encourage research and innovation.
Secondly, it is located in the capital of Sweden. As an international metropolis, here is the confluence of convenient living conditions, the colorful life of entertainment, followed immediately by the pulse of the world's information, fashion and technology.
Lastly, its curriculum is professional, reasonable and efficient with the focus on research ability in postgraduate studies and the fusion of Swedish culture and customs in language learning so as to enable learners to acquire language qualifications.
Mentors fully play out students' potential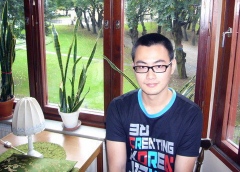 In my apartment in Stockholm.
Travelling in south-western China.
The Institute of International Education where I studied for my Master's degree has a long history and tradition with many outstanding achievements in the field of international and comparative education. The lectures and seminars of the postgraduate programme stress extensive literature reading, mastering research methods and educational innovation, and stimulate students and teachers to exchange ideas and experiences in discussions. The teachers encourage students to propose independent research projects and offer guidance at any time in the process of Master's thesis writing in order to fully play out the potential of the students.
The courses at the Department of Scandinavian Languages where I am learning Swedish are well-designed, scientific and systematic, attaching more importance to practical use of language with high demands for students' autonomous learning. Students can make use of the advanced language studio to learn Swedish. The courses contain studies of grammar, reading and writing, speaking and listening, and history, society and culture. For one thing, I have read a lot of authentic Swedish books and effectively improved the vocabulary and language sense; and for the other, my expression has also been enhanced in a lot of writing assignments, classroom presentations and panel discussions.
Global Swede award and student ambassador
During the past two years, I was serving as student representative of the Master's programme, got the funding rewarded by Asian Forum for the field work of the Master's thesis writing, and won the prize of Global Swede recognized by the Swedish Ministry for Foreign Affairs for excellence in the areas of innovation and entrepreneurship. Currently I am serving as international student ambassador at the Student Union.
While the writing of this article is coming to an end, I cannot help but try to revisit my determinations of pursuing a greater goal by coming to Sweden, settling in a place where researching, progressing and developing is a normal status of daily life, expanding my professional and global horizons, and challenging myself as a human. All in all, Stockholm University is a place where I will never regret having studied!
Text: Xinglong Du
Useful things to know as an international student