Stockholm University in Beijing
340,000 Chinese students per year go abroad to study. Universities all around the world gather this month in China trying to attract some of them.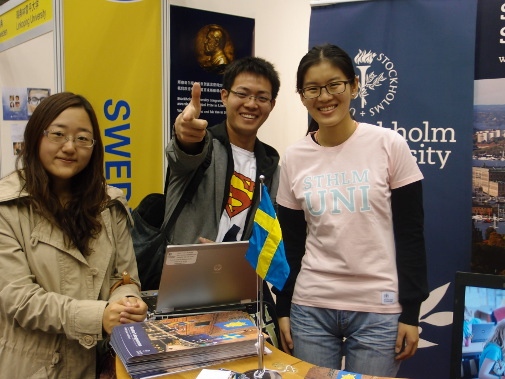 Prospective students talking to one of the Stockholm University alumni.
This week, Stockholm University participates in the Education Expo China 2012 which stops at seven Chinese cities. Stockholm University attends two of the shows; Beijing and Shanghai.
Beijing has just taken place and we were one of around 500 international universities from 38 different countries. The preliminary number of visitors was 25,000. 70% of them were prospective Master's students.
Nearly 90% of the students come from Beijing. The rest come from nearby cities like Hebei, Tianjin, Liaoning.
Some exhibitors singled out Stockholm University's booth as the most popular among the 14 Swedish institutions. We had a constant flow of students with serious questions.
Stockholm University ambassadors – our alumni – did a great job sharing their own experiences with students and their parents.
The rest of the week consists of seminars, presentations and meetings with universities and cooperating partners.