Study Swedish
Stockholm University offers a range of courses and programmes in the Swedish language, designed especially for international students and visitors. The courses are run by the Department of Swedish Language and Multilingualism.
The Department of Swedish Language and Multilingualism offers a wide range of courses. The majority of them are studies in Swedish and Scandinavian Languages (such as Norwegian, Danish, Viking-age and Medieval Texts), for which you need to have a good command of Swedish. See the departmental website for further information:
www.su.se/svefler/english
Swedish for International Students
If you are an international student you may apply for Swedish language training at Beginner's Level. To participate you must be admitted to studies at Stockholm University through an exchange programme or an equivalent agreement (scholarship, doctoral candidate, visiting researcher).
A placement test is arranged for students with some knowledge of Swedish.
Swedish for International Students
Swedish as a Foreign Language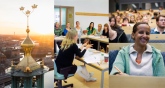 If you have successfully completed an upper secondary education or equivalent and have knowledge in Swedish corresponding to one semester of full-time studies you may apply for Swedish as a Foreign Language.

The course is given on two levels and gives participants the basis for further academic studies in Swedish: Intermediate Level (Förberedande kurs i svenska) and Qualifying Course in Swedish for University Studies (Behörighetsgivande kurs i svenska).
Svenska som främmande språk (in Swedish)
Tisus – Test In Swedish for University Studies
Tisus is recognised by all the universities in Sweden as a statement of eligibility regarding Swedish language proficiency. It is an examination at advanced level and designed according to the expressed needs of students and university teachers.
Tisus
Exchange Studies
If you are studying Swedish or Scandinavian Languages at a foreign university you may study one or two semesters as an exchange or guest student at the Department.
Studier i Stockholm för sig som studerar svenska i utlandet (in Swedish)
Guest Studies
If you are an international guest lecturer or researcher you may receive Swedish language training at Beginner's Level.
Swedish for International Students
Master's Degree Programme in Swedish
If you already have a foreign Bachelor's Degree/First Degree with a major in Swedish/Scandinavian Languages, you may apply for the Master's Degree Programme in Swedish.
Masterprogram i svenska (in Swedish)
Last updated: October 10, 2014
Page editor: Pia Nordin
Source: Department of Swedish Language and Multilingualism