Swedophiles: Introduction to Culture and Society in Contemporary Sweden
EVENT
Date:
19 June 2012, 3.00 PM
-
19 June 2012, 4.30 PM
Watch Professor Tiina Rosenberg give an introduction to cultural and social life in contemporary Sweden, together with a brief historical overview. This lecture, which was broadcast live on Tuesday June 19, forms part of the Stockholm Summer School 2012 programme.

Although many Swedish brands – such as Abba, Ikea, Volvo and The Girl with the Dragon Tattoo – are already well-known, there is still much more to discover about Stockholm and Swedish culture, especially in the areas of dance, film and entertainment.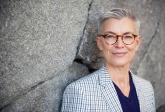 Tiina Rosenberg
Tiina Rosenberg has been professor of gender studies at Stockholm University and at Lund University, and has written extensively on performing arts, feminism and queer theory. Rosenberg is currently working on a new book on feminist activist performance.
Stockholm Summer School
Stockholm Summer School is a collaboration between Stockholm University, Karolinska Institutet and KTH Royal Institute of Technology.