Tiina Rosenberg
Tiina Rosenberg (PhD) is Professor of Theatre Studies and a gender scholar.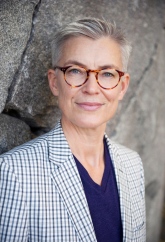 Email: tiina.rosenberg@teater.su.se
Tiina Rosenberg is Professor of Theatre and Performance Studies at Stockholm University. She is the former rector of the University of the Arts Helsinki and has previously been a professor of gender studies at Stockholm University and at Lund University. Rosenberg has written extensively on performing arts, feminism, and queer theory. She is the author of Byxbegär (Desiring pants, 2000), Queerfeministisk agenda (Queer feminist agenda, 2002), Besvärliga människor: Teatersamtal med Suzanne Osten (Difficult people: Theatre talks with Suzanne Osten, 2004), L–ordet. Vart tog alla lesbiska vägen? (The L-Word. Where have all the lesbians gone? 2006) and Bögarnas Zarah: diva, ikon, kult (Queer Zarah: diva, icon, cult, 2009). Rosenberg is the editor of Könet brinner. Judith Butlers texter i urval (Gender is burning! Essays by Judith Butler, 2005) and Genus ogjort (Undoing gender, 2006). She is the co-author of Teater i Sverige (2004), with Lena Hammergren, Karin Helander and Willmar Sauter.
In 2012 Rosenberg published Ilska, hopp och solidaritet. Med feministisk scenkonst in i framtiden (Anger, Hope, and Solidarity: Carrying Feminist Performance Art into the Future), a study of contemporary feminist performance in Sweden, and in 2014 a book in Finnish, Arvot mekin ansaitsemme: kansakunta, demokratia ja tasa-arvo (We Have the Values We Deserve: Nation, Democracy, and Equality) that deals with culture and democracy. Rosenberg frequently appears in the role of public intellectual in the areas of cultural policy, equality, democracy, and human rights. Her latest book Don't Be Quiet, Start a Riot. Essays on Feminism and Performance (2016) is available as Open Access at http://dx.doi.org/10.16993/baf.
Areas of interest
Feminist theatre and performance studies, feminist theory, gender and sexuality studies, social and political thought
Current Research Projects
Rosenberg is currently working on two projects: Aesthetics of Activism and Activist Aesthetics: Contemporary Feminist Performance, and Negotiating Gender Equality and Feminism in Post-Social Democratic States of Sweden and Germany. The latter is part of Imagining Change: Women and the Making of Civil Societies in the Arctic Region, Asia, Latin America and Europe, funded by the Swedish Research Council.
Aesthetics of Activism and Activist Aesthetics: Contemporary Feminist Performance
Sweden has experienced an explosion of feminist performing arts in the 2000s. Although feminist actions, theatre, shows, and performance existed previously, feminist events with a distinct political and activist approach have strongly emerged over the past decade. This study will survey the many feminist endeavors, contestations, and discoveries that have taken place in a variety of live genres, such as dance, theatre, performance, opera and installation art.
Negotiating Gender Equality and Feminism in the Post-Social Democratic States of Sweden and Germany
This project deals with contemporary feminist politics and activism in contemporary Sweden and Germany. The background of this case study is the shift that has occurred from a social democratic welfare state regime to a neoliberal one, and the implications of these changes for women's organizations and the feminist movements in Sweden and Germany.
Performing Premodernity. Exploring Cultural Heritage through the Drottningholm Court Theatre
"Performing Premodernity" is a project that meets the 18th century on its own terms through the extraordinarily well-preserved performing space of the Drottningholm Court Theatre, which provides unique possibilities for research and experimentation. The project will embrace both the material and the immaterial potential of the Drottningholm Court Theatre, and include a detailed study of historical lighting and stage gesture. On the cusp of academic and artistic research, the results will be applied to the performance of 18th century opera. The project will make a substantial and timely contribution to an understanding of premodern theatre practices and their cultural relevance today.
Last updated: May 30, 2016
Page editor: Karin Walford
Source: Department of Culture and Aesthetics