Workshop med Guido Mazzoni
EVENEMANG
Datum:
17 oktober 2017 09:00
-
17 oktober 2017 16:00
Plats:
Konferensrummet, 328
Om romanteori. En workshop med Guido Mazzoni, biträdande professor vid Universitetet i Siena.
Finansieras av Litteraturforskning som ledande område.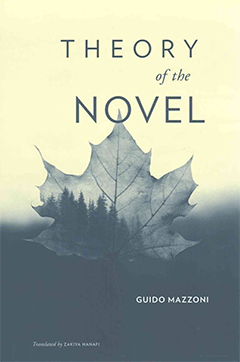 The workshop takes its departure from Guido Mazzoni's book Theory of the Novel (Harvard UP, 2017), a book that since its first publication (Teoria del romanzo, 2011) has been widely recognized as a fundamental contribution to the recently revitalized debate surrounding the history and theory of the novel as a fundamental, self-reflexive genre of modernity. The workshop is organized in such a way that – after an initial presentation of the book by the author – speakers will engage in "responses" to Mazzoni's book, or chapters of the book, from their own perspectives and individual interests in the form of the novel. According to Mazzoni, theories of the novel today should pay more attention to historical specificity and shy away from all too totalizing claims. In this spirit, the workshop will explore different possibilities of theorizing the novel today.
Programme
| | |
| --- | --- |
| 9:00 | Christer Johansson & Jobst Welge: Words of Welcome, Introduction |
| 9:15 | Guido Mazzoni (Università di Siena, Comparative Literature): Presentation of Theory of the Novel |
| 10:00 | Frida Beckman (Stockholm University, Dept. of English, "Do not go Gentle into that Good Novel: A Passionate Addendum to Guido Mazzoni's Theory of the Novel" |
| 10:45 | Frederik Tygstrup (University of Copenhagen, Dept. of Arts and Cultural Studies), "The Legacy of Lukács for Contemporary Theories of the Novel" |
| 11:45 | Lunch Break |
| 13:00 | Julie Hansen (Uppsala University, Dept. of Modern/Slavic Languages): "Faction and the Limits of the Novel" |
| 13:45 | Hans Färnlöf (Stockholm University, Dept. of Romance and Classical Languages): "The mirror, the glass, and the window – from Stendhal to Maupassant" |
| 14:30 | Jobst Welge (Stockholm University, Literature): "Particularity and Interiority: Variations on Themes from Guido Mazzoni's Theory of the Novel" |
| 15:15 | Concluding Remarks |
Senast uppdaterad: 2 oktober 2017
Webbredaktör: Joanna Bong Lindström
Sidansvarig: Institutionen för kultur och estetik