World renowned taiko artist Kaoly Asano visited Stockholm University
EVENEMANG
Datum:
04 november 2018 12:45
-
04 november 2018 18:45
Plats:
Aulan, Kräftriket 4A
On November 4 the workshop with the world renowned taiko artist Kaoly Asano was held at the Department of Asian, Middle Eastern and Turkish Studies in collaboration with the Taiko Shin Kai.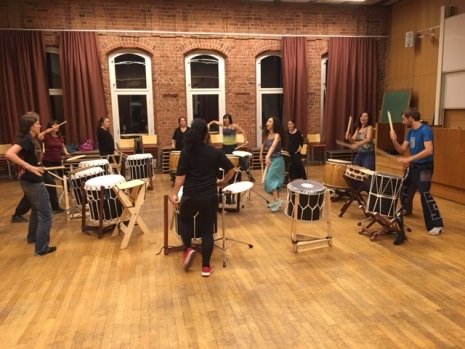 Before the actual workshop, with enthusiastic participants, a lecture on the theme "Drums in Japanese Music" was delived by Gunnar Jinmei Linder, followed by a demonstration of the taiko drums by members of the Taiko Shin Kai.

The event was an officially recognized event to celebrate the 150th anniversary of the establishment of diplomatic relations between Sweden and Japan.
http://taikoshinkai.com/guest-taiko-artists/Taiko-Event_November-2018.html
Text and photo: Gunnar Jinmei Linder
Senast uppdaterad: 6 november 2018
Webbredaktör: Ulrica Nordström
Sidansvarig: Department of Asian, Middle Eastern and Turkish Studies