Hieronymus Day 2019: An encounter with writers, translators and texts
On Sept. 30, the International Day of Translation, eight students from Arabic and Chinese Studies at our Department presented in a joint event their translations and held a podium discussion on translation.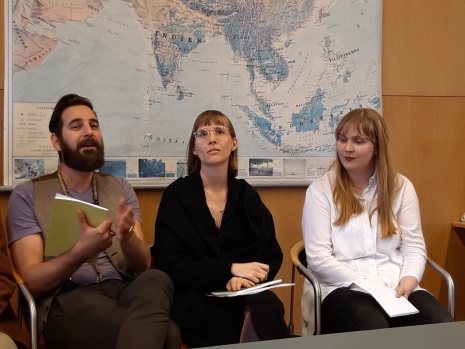 The excerpts presented covered quite different genres: poetry, the novel, essays and the short story. The audience could listen to translations of text pieces written by the Iraqi novelist and poet Sinan Antoun and the Palestinian poet Mahmoud Darwish as well as by contemporary Hong Kong writers Xi Xi, Ma Ka Fai and Chan Ho Kei. Ma Ka Fai had even provided audio files with excerpts from his texts read in Cantonese. Tania Al Saadi and Ingela Jin read from the Arabic and Chinese source texts.
Following the public reading the translators discussed their experiences with translation in the language pairs Arabic-Swedish and Chinese-English. They pointed out that a translation process always involves a close reading of the source text and often also demands thorough research, depending on the target audience of a translation. One translator emphasized how challenging it can be to keep the specific style and rhythm of a text. Another translator described it as her aim to leave enough space to the reader to develop her/his own images of a text.
Asked about the role of translators as cultural mediators one answer was that translations can change or broaden a canon of foreign literature. Another aspect of translation which the translators found quite rewarding is the chance to introduce a writer to the rest of the world.
The event was co-organized by Astrid Ottoson al Bitar and Monika Gänssbauer who hope to establish a tradition of translation related events around Hieronymus Day.
Senast uppdaterad: 7 oktober 2019
Webbredaktör: Ulrica Nordström
Sidansvarig: Department of Asian, Middle Eastern and Turkish Studies