Du är här:
Second guest lecture by author Jeon Hyun Jeong
Second guest lecture by author Jeon Hyun Jeong
EVENEMANG
Datum:
11 november 2019 16:00
-
11 november 2019 18:00
Plats:
Aulan, Kräftriket 4A
The second lecture by Jeon Hyun Jeong will take place on November 11, 2019, at 16:00-18:00. Detailed information will follow.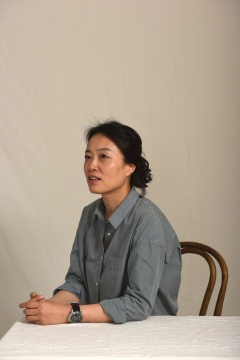 Jeon Hyun Jeong is a children's book writer in Korea. She majored in Architecture and worked at an architecture design firm. After leaving the company, she wrote travel columns as a freelance writer and worked as a monitor for the Korean broadcasting network MBC. She studied TV drama writing at the Korea Television and Radio Writers Association. However, after she became a mother she fell in love with reading children's books and started to write her own stories. She received the 19th Golden Goblin Award with "Cheer Up!" Eun Chan, a children's book adapted for her daughter from a drama she previously wrote.
In 2018, Jeon Hyun Jeong was selected as a member of the Antarctic Expedition team to celebrate the 30th anniversary of the King Sejong Station in Antarctica and visited the station and the Antarctic Specially Protected Area.
Jeon Hyun Jeong's visit to Stockholm University for three months is sponsored by the Residence program of the Arts Council Korea. She will deliver two guest lectures during her stay in Stockholm.
Senast uppdaterad: 7 oktober 2019
Webbredaktör: Ulrica Nordström
Sidansvarig: Department of Asian, Middle Eastern and Turkish Studies

Genvägar