Du är här:
Successful Japanese business event at SU
Successful Japanese business event at SU
The JBA Corporate Event 2017 was held on 12 May at Stockholm University.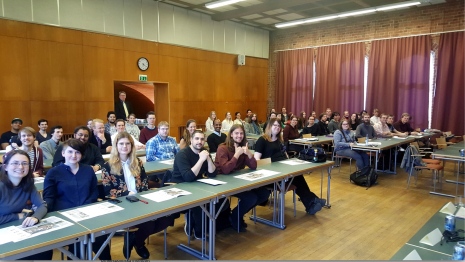 Over 58 studends and external visitors came to listen to company presentations by Mr. Kenichi Oteki, General Manager Mitsubishi Corporation and Chairman of Japanese Businessmen's Club, Mr. Toshinori Sato, Managing Director Tomoku Hus, Mr. Kalle Jönsson, Project Manager Tomoku Hus, and Mr. Pontus Nylén, Work Experience IKEA Japan.
After the the presentations the panel answered questions from an engaged audience and the discussions continued during a mingle held after the event.
The JBA Corporate Event emphasizes the vital connection between the Department of Asian, Middle Eastern and Turkish Studies and the Japanese business community. The collaboration will continue to develop in the future.

"The Japanese Business Association have already started to plan the development of the event and how to take it a step further", says Daniel Nygren, Founder and Chairman of the Japanese Business Association of Stockholm University.
Senast uppdaterad: 15 maj 2017
Webbredaktör: Ulrica Nordström
Sidansvarig: Department of Asian, Middle Eastern and Turkish Studies

Genvägar