Du är här:
Välbesökt föreläsning om kaffe i Japan
Välbesökt föreläsning om kaffe i Japan
Tisdagen den 7 mars höll Professor Merry White från Boston University en öppen föreläsning om kaffe och kafé-kultur i Japan.
Professor White berättade både om sina egna upplevelser och erfarenheter i Japan, och gav dessutom del av sin forskning kring kaffets historia och utveckling i Japan. Det första kaffehuset tillkom 1888 (kaahii-kan), men redan på 1500- och 1600-talen hade portugiser och holländare fört med sig kaffe till Japan. En på den tiden tämligen exotisk dryck som inte fick något riktigt fäste i kulturen. Under 1900-talet och fram till våra dagar har dock kaffet fått en allt starkare position.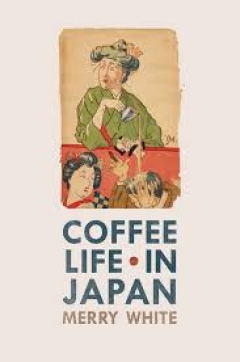 För intresserade kan Professor Whites bok Coffee Life in Japan, University of California Press, 2012 rekommenderas. Den finns som e-bok på Stockholms universitetsbibliotek.
Föreläsningen besöktes av nästan 30 åhörare. Bland dem fanns studenter på grund- och avancerad nivå, doktorander, samt forskare/lärare inom och utom Stockholms universitet.
I samband med föreläsningen skickade Merry White också ett antal tips på caféer att besöka i Japan (på engelska).
Visits to Cafes: An Unreliable Guide by Merry White
This postlude allows the reader who visits Japan an opportunity to pay calls on some cafes I have explored in the research for my book. There is no guarantee that they will all be available but since some have persisted for almost a century, at least some are likely to be open.
Tokyo
Café do Ramburu (Café de l'Ambre)
Sekiguchi Ichiro, now 102 years old, still presides in this highly-principled shop near Ginza in Shimbashi. Sekiguchi began the shop in 1948 with Indonesian beans that had been stored for shipment to Germany before the War. Specializing in old beans (such as Cuban 1974s and Colombian 1989s) roasted to order, Sekiguchi has an idiosyncratic, demanding style and has been called a "koohii-maniakku" or coffee maniac, but the coffee is indeed worth the visit.
Ginza 8-10-15, Tokyo
Phone 03/3571-1551Web Site HYPERLINK "http://www.h6.dion.ne.jp/%7Elambre" \t "_blank" www.h6.dion.ne.jp/~lambre
Café Paulista
Established in 1909 in Ginza, oldest remaining coffee house. Named for San Paulo, Brazil by its owner, Ryu Mizuno promoted coffee with the assistance of the Brazilian government which sent him 100 bags of free coffee annually. Famed for association with artists, writers and literati of the Taisho era.
Ginza 8-9, Chuo-ku, Tokyo
Open M-Sat 8:30 am to 10:30 pm; Sun 12-8.
03-3572-6160
Tsuta
Koyama-san has run this café for most of his adult life and hopes now that his son may succeed him. The café is peaceful and "sepia-toned" in a timeless style of dark furnishings and soft light. It is in Minami-Aoyama, adjacent to Aoyama Gakuin, a famous women's university. His café is featured in Chapter 4.
Open Mon-Fri 10am-10pm, Sat 12-8pm, closed Sun. Omote-sando Address 5-11-20 Minami Aoyama Minato-ku, Tokyo Telephone 03-3498-6888
Bear Pond (2)
Two locations allow visitors to take the best espresso of Tokyo in two styles – funky neighborhood or chic downtown. The original, in Shimo-Kitazawa, is worth the trek for its cozy minimalism and there most likely you will have your espresso drawn by the master himself, Katsu Tanaka, who worked in coffee in the U.S. for many years, as a trainer and barista. The newer shop is in Shibuya, central and very industrial-chic.
Shimo-Kitazawa main store:
Open 10:00-18:30 Closed On Tuesday Tel: +81 3-5454-2486 espresso@bear-pond.com
Address: 2-36-12 Kitazawa Setagaya-ku Tokyo 155-0031
Shibuya Branch: Address: 1-17-1 Shibuya Shibuya-ku, Tokyo, 150-0002 Open Hour 9:00-18:00, every day.
Café de Naniwaya
Seems much older than it is; founded in 2006. The handpour method is methodically engaged here as beans are ground at ordering and the temperature of the water is exactingly managed. Here you might order your first coffee jelly, a dish invented in Japan in the Taisho era. 1-7-5 Asakusa, Taito-ku, Tokyo TEL: 03-5828-8988
Café Ginza West
This beautiful café serves European patisserie and coffee or Western tea in a peaceful, classic setting. White tablecloths, uniformed wait staff and antique furniture have graced the space since 1947. This café offers free green tea in a handle-less cup for sipping while you make your choice from the coffee menu.
Little Nap
On the west side of Yoyogi Park, don't miss this small and perfect "coffee stand" that has a few places inside to perch or sit outside on a bench. The coffee of course is handmade, mostly pour-over and there are a few small things to eat, including ice creams.
Also not far from Yoyogi Park is Fuglen, opened by Tim Wendelboe of Oslo and it is very nice indeed, also offering creative cocktails and nice seating.
Be a Good Neighbor
A small triangular shaped coffee place, in Shibuya, no seating, but lovely to stand inside or out. In Sendagaya.
In the Nakameguro area there are several very good artisanal coffee houses along the small canal.
The Workers' Coffee
Onibus
Blue Bottle (I think Tokyo's fourth so far)
Switch Coffee near Meguro Station
Chatei Hato, in Shibuya
Obscura in Setagaya
Nem Coffee in Hiroo
Updates on Sprudge, a good coffee site.
Kyoto
Mo-An
North Kyoto. Not far from Imadegawa (a ten-minute walk at most) but far from the congestion of urban Kyoto, on a hiking trail on Yoshida-yama, sits this most beautiful place to drink coffee. It is a converted tea house, originally built in the late Taisho era, with exposed beams and simple, clean furnishings. They make wonderful set lunches to accompany coffee and other beverages. The cutlery, pottery and glassware are made by local artists. On a summer afternoon, the views over Kyoto are as lovely as on a winter day in the snow. The first time you find it will be magical and the next time you will take another person so it will be magical for him.
Kyoto Sakyo-ku, Yoshida-jinja
075-761-2100
Shinshindo
North Kyoto on Imadegawa doori. Opened in 1930 by Tsuzuki Hitoshi, a poet, who went to France to learn to make bread. He sold bread and coffee at the café, which he designed as a student café in France. In World War II the café was an air raid shelter and during the student protests of the late 1960s, students set up barricades to protect the café from Molotov cocktails being thrown along Imadegawa doori. It is now much quieter. Large rectangular tables and bench seating were made by a famous carpenter, Kuroda Tatsuaki. In a small courtyard are tables and chairs for clement weather seating. Close to the north gate of Kyoto University, Shinshindo is the site for study and academic conversation.
Factory Kafe
A challenge to find, but one of the most interesting places to drink excellent coffee in Kyoto. At the southeast corner of Imadegawa/Kawaramachi, walk south along Kawaramachi past a Mister Donuts. Cross a small street. On the left soon after that will be a nondescript building with an even less-descript ground floor hallway. There will be bicycles along the hallway. Go down the dingy hall and up the stairs to the second floor. Walk past some studios and empty rooms to a room on the right where you can see a Fuji coffee roaster, bare wood floors and some goods on shelves, including large bags of coffee beans. At the opposite side of the room is a counter where Sa-Chan makes fabulous one at a time cups of coffee. She will give you a map drawn on a small wooden board. This shows you what coffees from where are on offer today. Watch her every move as she makes your coffee. Above her on the wall behind is a photo poster of Fidel playing golf with his bearded buddies. To the left you will see racks of hanging bicycles: this is not just a wonderful coffee place, it is also a bike repair shop. I love this place.
Hanafusa
On Marutamachi, where it ends at Shirakawa, just before the gas station as you come east, is an old siphon coffee shop. The siphon making is splendid to watch as a vacuum is created over a spirit flame and then, removed from heat, the vacuum breaks and the coffee above flows down through the glass pipe into the bulbous glass receptacle below. Hanafusa opened in the mid 1950s and is a favorite of older men, cab drivers, and myself. The gentlemen who make the coffee ask you what body and depth you prefer in your coffee before they craft your cup. There is no particular atmosphere. People like the simplicity – the diligence in an ordinary space.
Kissa Soiree
Central Kyoto, a bit north of Shijo doori on Kiyamachi, parallel to the Kamogawa River. Designed by a famous painter, Togo Seiji, this atmospheric café opened in 1948 but its design resonates with older, Taisho period fittings. It is bathed in blue light, the paintings are by Togo himself, and service is in European porcelain. Nishikiya-machi Shijo noboru, Shimogyo-ku, Kyoto-city TEL 075-221-0351
Francois (Furansoa)
Central Kyoto just south of Shijo doori on Kiyamachi. Café culture in Europe of the 1920s influenced the owner who opened this café in 1934. Classical music is played on old records and the stained glass windows make the place feel church-like.
Mole
Central Kyoto. Gokoumachi Dori, a little north of Oike Dori. Ambient Café Mole is its full name, the "ambience" given by a virtual forest of potted trees and plants. The owner, Tomochika, says "I like it to be known only to those who know" but finding it is not difficult and the welcome to newcomers is sincere. He plays "ambient" Brazilian, jazz, swing etc. and serves a wonderful chai as well as coffee. He tries to provide organic offerings.
Lush Life
North Kyoto. This small jazz café, really only a counter, is opposite Demachiyanagi Station in a small enclave of shops and restaurants. The owners, Saki Tetsuya and his wife Michiyo, have managed this café since 1988 but have owned several jazz kissa previously. They have a fine daily curry-rice as well as coffee. Coffee and curry have been paired in wharf side sailors' coffee houses in London – and here since before the War. In summer, there is an outdoor table as well but then you cannot hear the music.

Tsukiji
Café Tsukiji has no relation to the world's largest fish market in Tokyo. It was built in 1934 and entertained literati such as Junichiro Tanizak, who refreshed themselves on the red velvet seats in this Viennese style café. In the center of Kyoto, it is tucked away on the first side street north of Shijo –doori off Kawaramachi. The music in the air would be Mozart and the pastries accompanying your Café Wien, Viennese.
Kawaramachi Shijo
075-221-1053

Otakufu
Central Kyoto.
Just a few steps south off Shijo-dori, near Takashimaya. On your right you will see a sign with a smiling female mask, the "otafuku" character from Kabuki theater. In the basement is Otafuku. If you sit at the counter, Noda-san will introduce you to others there. The coffee is made one cup at a time, individually dripped in perfect spirals over the grounds. Noda-san gets his beans from Tanaka Coffee just north of Imadegawa on Horikawa.
Bambi
A cabbie's dream breakfast and excellent coffee, prepared by the master roaster who roasts in his shop nearby as his son and daughter in law make fabulous waffles – maple, red bean, and wonderful French toast and other trucker-size breakfast treats. Just at the foot of the road (Ginkaku-ji michi) leading up to Ginkaku-ji, this café also serves the bus drivers who bring tourists for their hour or so of temple viewing.
Prinz
About a five minute walk from Kyoto's largest art school is a very arty café/restaurant/inn and gallery. Prinz is very Bauhaus, furnishings and temperament – coolest spaces for looking at art or listening to music or drinking coffee. Outdoor patio is very serene.
Takahara-cho, Tanaka 5, Sakyō-ku 075 712 3900
Senast uppdaterad: 3 april 2017
Webbredaktör: Ulrica Nordström
Sidansvarig: Institutionen för Asien-, Mellanöstern och Turkietstudier

Genvägar