Explore the examination tools
What is important to consider for teachers when it comes to digital exams? Cormac McGrath, senior lecturer at the Department of Education, who works at the Centre for the Advancement of University Teaching (CeUL), shares some tips.
─ Most important of all is to examine the course objectives. Right now the University has switched to digital teaching and examination and many teachers are in a new situation. I think you should think of two phases as a teacher. In the emergency phase, it is important to ensure that the digital examination is legal and fair. In the second phase, one can start to explore how to get the most out of the digital format. In the long run, you can think of new ways of examining where you use unique data that each student can work with.
Cormac McGrath says that in the context of the examination, one usually speaks about the "validity" of the examination, the degree to which it measures what is important to measure, and partly about the examination's "reliability", how reliable the answers are.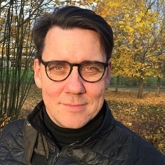 ─ Multiple choice questions are considered a good example of an examination form with high reliability, but it is an examination form that requires very careful design and planning, especially if you are to examine abstract thinking and understanding. A good advice is to talk to colleagues about the examination and test ideas on each other.
Exia, Athena and Zoom are used
At Stockholm University, there are three tools that can be used for different types of digital exams: the Exia assessment tool, the Athena learning platform and the e-meeting service Zoom.
In Exia you can do things like open exams, home exams, multiple choice questions and longer essay questions, but also Peer Review, according to Cormac McGrath.
─ A good feature is that you can randomize the questions, and then minimize the risk of students helping each other answer. If you also link this to a time frame, it can work very well. At the same time, it should be remembered that sometimes you want to encourage cooperation even in examinations. For example, Athena can be used to allow students to answer different tasks. ─ An advantage of Athena is that the tool can be used in combination with Urkund to control plagiarism. If you want to use Urkund with Exia you need to export the file with the students' answers first, and then import it to Urkund.
The Zoom e-meeting service
Zoom can be used for oral presentations and exams in real time and makes it possible to record exams. ─ You can then attach a link from the recorded file to a task in Athena.
What are the risks with digital exams?
─ There is a risk that students help each other and if they do, it is impossible to examine each individual's level of knowledge. But the risk is minimized if students work with different questions or with questions based on different scenarios or practical examples. Another risk is plagiarism. To avoid this, it can be good to use a tool that checks for plagiarism, such as Urkund.
How can you avoid stress with new digital tools?
─ If you have never completed a digital exam before, it is good to have a test session with some test questions so that students can see how the tool works before it is time for examination. Such a test makes the students feel safer before the exam and can probably perform better and for the teachers it is good that they can see how the system works.
Tips for online teaching
Greet everyone who comes into Zoom to establish contact
Direct questions straight to different participants
Name the person you are asking a question to
Encourage everyone to have a video or still image of themselves
Have the participants discuss in small groups, so-called breakout rooms
Use reaction symbols like raising your hand
Use the chat for questions and comments
Make a poll / survey in advance if you have questions that the participants can answer yes or no to
Use a padlet / bulletin board for common ideas
Vary the voice and tempo as you hold a lesson
When talking to the group, look into the camera, not the screen
Create more assignments
Give more feedback in the form of e-mails and messages than at a regular course
Have students test the tool before a digital exam
Talk to colleagues about the digital exam and test ideas on each other
Last updated: May 25, 2020
Page editor: Annika Forslund
Source: Centre for the Advancement of University Teaching