Research facilities
Common resources
A brackish water supply system that can be used both in the lab and outdoors, is provided. The water can be filtered from sand. Our water come from the depth: 15 m.
Outdoor-resources
The walls and ceiling of an outdoor experiment hall can be opened or closed after the needs of your experiment.
Pools and water containers can be used either in the experiment hall or behind it, where there's a large area to conduct flow through experiments.
A rinse-area with large benches and water supply is provided close to the boat jetty.
Climate rooms
In total there are 5 climate rooms at the laboratory. One is specialized for ecotoxicology tests. In all rooms there is an air-bubbling system, light control for regulating day-lenght and connection to the brackish water flow. The temperature can be set from 5 to 25 C°. All electronic equipment that is used in these rooms must be certified after the standard IP 63.
Laboratories
The Sorting lab is reached by the boat deck and is useful for rinsing, sorting and separating samples. There is a water flow system that leads right back to the sea, work benches and freshwater tubes.
Course lab is optimal for 16 people. The lab is equipped with strong light, magnifying glasses/loups, microscopes and literature. There are also aquariums and buckets to present or store organisms.
Chemical lab is newly renovated and contains new equipment such as a fume hood, a spectrophotometer, a vacuum- and microcentrifuge.
Dry lab can be used for filtering water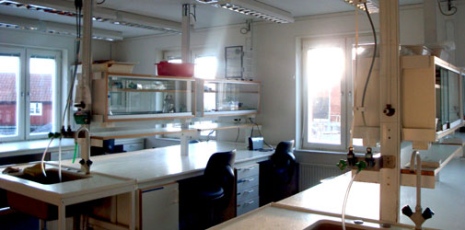 All links about equipment on this page lead to general information, not to the specific model at our laboratory.
Last updated: March 3, 2020
Page editor: Nastassja Ekelöf
Source: the Baltic Sea Centre