Master students with a drive for a healthy ocean
The ocean is facing challenges such as overfishing, acidification and habitat destruction. Meet the students taking the master course Applied Marine Conservation Ecology, wanting to do something about it.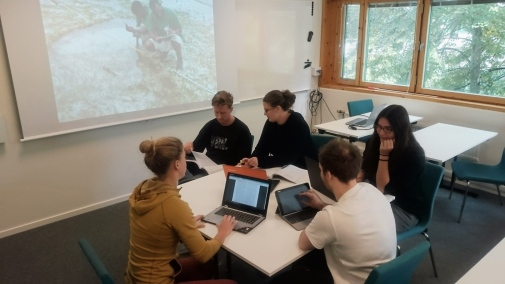 Engaging by debate and outreach
- I chose to study marine ecology at Stockholm University because I had heard good things about the Swedish education system and the freedom you have when designing your master program, says Maria Glarou, Greece.
The Department of Ecology, Environment and Plant Sciences (DEEP) at Stockholm University offers a master course in Applied Marine Conservation Ecology. This course is designed to address and discuss global marine issues relating to conservation and management of the marine habitats and their biodiversity. A large focus is on discussion and open-style classrooms where students and lecturers engage in debates and dialogues concerning current, past and future conservation issues.
Lina Mtwana Nordlund, researcher at DEEP, held a lecture in scientific outreach and science communication, the lecture consisted of three parts 1) scientific outreach in marine conservation, 2) how to use social media to your advantage with a focus on how to find a job, 3) hands-on experience how to improve your professional online presence. As part of the applied part of the lecture some of the students were interested in writing a blog post and here they share their experience of the master course they are attending:
- I think scientific outreach and science communication is a very important part of the education, for example, social media can be a powerful tool to find jobs, build networks and learn more about potential employers, says Lina Mtwana Nordlund.
Internship outside the university
Robert Lingvide, studying to become a teacher, appreciates the applied aspects of the course as a way of understanding what we are doing instead of the traditional theoretical way of teaching.
Included in the course is a two week internship with the intent of giving students the opportunity to connect with potential employers but also to experience conservation work conducted outside university. Sara Forsberg says that the two week internship was one of the major reasons she chose Applied Marine Conservation Ecology at DEEP.
Diversity gives broader perspective
The ocean is facing many challenges such as overfishing, acidification and habitat destruction. The multi disciplinary approach in the course, together with the diverse backgrounds and nationalities of the attending students, adds broader perspective and insight. Additionally, it creates a wider understanding of conservation challenges and brings different points of view into the discussions. Viktor Birgersson chose the master program in marine biology and this course in particular, because he is concerned about the conditions in the marine environment. As a big fan of fishing he has experienced changes in the Baltic Sea, for example the decrease of predatory fish.
- I want to work with conservation and its challenges. Last year I studied the subject in the Caribbean and now I want to expand my knowledge and understanding of the issues to a global scale, says Amanda Wännman.
The course leader is Assoc Prof Martin Gullström, DEEP.
Text: Amanda Wännman, Robert Lingvide, Maria Glarou, Sara Forsberg and Viktor Birgersson and Amanda González-Bengtsson