The key to understanding climate change at the Third Pole lies in the past
Scientists from 17 countries have begun an urgent expedition to improve our knowledge of climatic changes on the Tibetan Plateau. The latest IPCC report says two-thirds of glaciers in the region could be lost by 2100, but further research is badly needed to clarify how this and monsoonal changes will affect fresh water supplies — on which almost one third of the world's population depend.
To find the answers, scientists will look to the past. The international research team includes Natasha Barbolini from the Department of Ecology, Environment and Plant Sciences (DEEP) and the Bolin Centre for Climate Research at Stockholm University. They have recently been granted US $ 1.5 million from the International Continental Scientific Drilling Program (ICDP) to drill one of the largest and deepest lakes on the Tibetan Plateau. Together with the Himalaya-Hindu Kush mountain range, this area stores the largest amount of snow and ice after the Arctic and Antarctic – and is thus called the world's "Third Pole".
The lake to be targeted, Nam Co, is situated at over 4 700 m above sea level, and preserves an archive of past environmental changes for possibly the last one million years. In total, 2.2 km of sediment will be drilled, providing a near-continuous record that holds clues to how biodiversity was affected during past glacial and interglacial periods. It will also deliver essential information on how Asian monsoon behaviour is affected by climate change.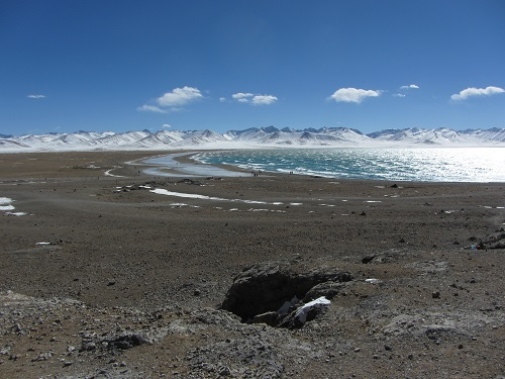 Fossil pollen reveals past climates
The sediment cores, which scientists plan to start drilling in 2023, will reveal how the unique biodiversity of the Tibetan Plateau has been shaped in such a high-altitude, extreme environment. "Nam Co is a first-class 'natural laboratory' to study how ecosystems evolve in response to rapidly changing climates," says Natasha Barbolini, palaeoecologist and one of the Principal Investigators of the research campaign (titled 'NamCore').
"A high-resolution record of fossil pollen (the reproductive material of plants) will make it possible to reconstruct the past vegetation in detail. It will also give us important information on how plants migrate to higher or lower elevations when the climate warms or cools."
Impact on livelihoods
"There is a fundamental lack of understanding on exactly how climate regulates large-scale atmospheric circulation systems like the Asian monsoon —but future changes in the monsoon will have major socio-economic consequences," says Torsten Haberzettl, Head of the Department of Physical Geography at the University of Greifswald, and also a Principal Investigator. "More than 2.5 billion people in Asia depend mainly on monsoonal precipitation for drinking water, agriculture, hydropower, and industry".
"We anticipate the NamCore project will contribute to improving models for future climate change scenarios. The lake is situated at a very sensitive junction of key global atmospheric circulation patterns: the Indian and East Asian Monsoons, Westerly Jet Stream and the Siberian High Pressure Cell," adds Liping Zhu, Principal Investigator and Professor at the Institute of Tibetan Plateau Research (Chinese Academy of Sciences) in Beijing.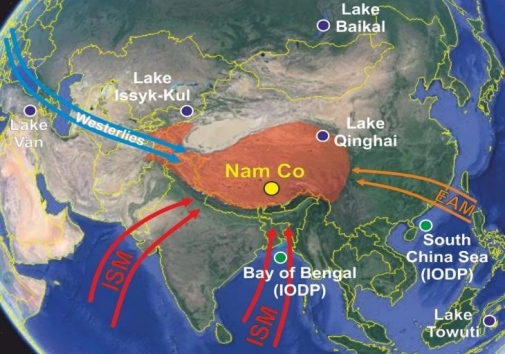 An ancient 'megalake'
Geological and biological evidence suggest that Nam Co may have been much larger in the past (between 115 and 40 thousand years ago), forming an ancient 'megalake'. During cold and arid periods, when other lakes on the plateau had dried out, Nam Co would still have existed, creating a refuge for aquatic organisms like snails, crustaceans and fish.
"We have just completed the first phase of test drilling successfully in the summer of 2020", says Junbo Wang, Principal Investigator and Director of the Nam Co Observation and Research Station (NAMORS, established in 2005 and located right at the lakeshore). "This increases our confidence that this project will answer key questions on how monsoon fluctuations and climate change affect Asian plant and animal diversity".
Floods, landslides, and temperatures on the rise
A better understanding of the changing climate, with its future effects on biodiversity and human livelihoods, is imperative for improving risk management and infrastructure planning over the next century. The Third Pole is rapidly losing glacial ice — like the other two poles, it is warming up much faster than the rest of the Earth. More than a quarter of all ice in the Himalayas has been lost in the last 40 years, and ice loss continues to accelerate. This has resulted in a substantial increase in landslides and floods, caused by rock destabilisation and glacial lake outbursts.
The intensity and unpredictability of monsoonal rainfall has also been escalating. Central India has seen a three-fold increase in extreme precipitation events from 1950 to 2015. Nepal and Bangladesh have suffered torrential floods in the last few years, with many thousands of people dying and millions more being displaced. All evidence shows that human-caused climate change and black air pollution (which absorbs solar radiation and speeds up melting) are the main drivers behind the upsurge in all of these natural disasters.
With already committed and unavoidable climate change in the coming decades, adaptation approaches are required to limit the scale of risks as much as possible. As detailed in the 2019 IPCC 'Special Report on the Ocean and Cryosphere in a Changing Climate', an essential part of this is improving model forecasts. This requires answers on exactly how the Asian monsoons behave under different climatic conditions — answers that the NamCore project plans to reveal.
Further information:
https://www.icdp-online.org/projects/world/asia/lake-nam-co/
Contact details:
Dr. Natasha Barbolini, Tel.: +46-7-02024773; E-mail: natasha.barbolini@su.se
Department of Ecology, Environment and Plant Sciences (DEEP), Stockholm University
Prof. Dr. Torsten Haberzettl, Tel.: +49 (0)3834 420-4511; E-mail: torsten.haberzettl@uni-greifswald.de
Physical Geography, Institute of Geography and Geology, University of Greifswald
Prof. Dr. Junbo Wang, Tel.: +86-10-84097055; E-mail: wangjb@itpcas.ac.cn
Institute of Tibetan Plateau Research (ITP), Chinese Academy of Sciences (CAS)
Prof. Dr. Liping Zhu, Tel.: +86-10-84097093; E-mail: lpzhu@itpcas.ac.cn
Institute of Tibetan Plateau Research (ITP), Chinese Academy of Sciences (CAS)
Last updated: December 3, 2020
Page editor: Amanda Gonzalez Bengtsson
Source: Department of Ecology, Environment and Plant Sciences