During your studies
Here we have gathered practical information that you may need during your studies in astronomy.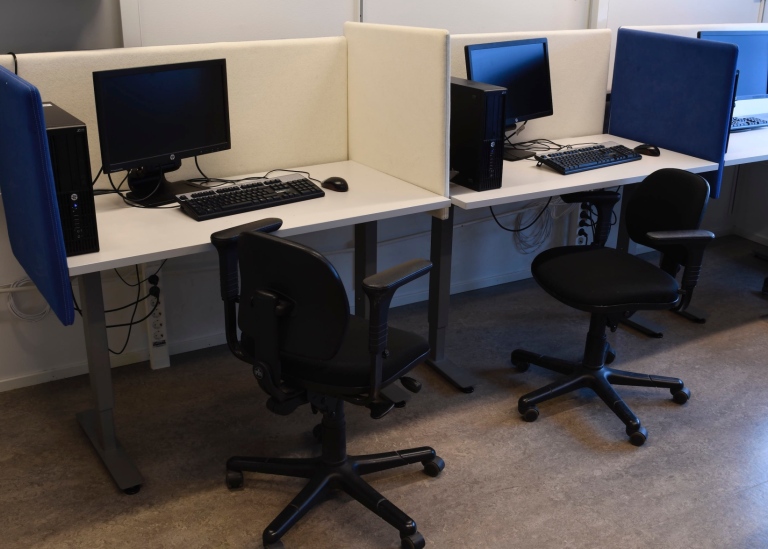 Below you will find practical information relevant for your studies at the Astronomy Department at Stockholm University. Please also read the general information about the University which you will find on:
Study with us
If you have completed another education that corresponds to one or more of our courses, you have the possibility of applying for a credit transfer. We assess how your previous education corresponds to what you consider you have already studied. It is therefore important that you supply sufficient documentation for us to made an assessment. Application is easiest made by using a credit transfer application form and attaching the relevant documents.
Contact studieinfo@astro.su.se to get access to the form or for further information.

In order to apply for a credit transfer you must be an active student, that is you must be accepted and conduct studies at Stockholm University. If your credit transfer application is not approved you have the possibility of appealing the decision. Information on how to do this is enclosed with the decision.
Non-completion and breaks in you studies
If you wish to report non-completion in a course or programme you as a stundet can do this in Ladok. If you do this within three weeks after the course starts are you can re-apply to the course at a later date. If it is reported later than three weeks you can not re-apply to the course. If you still wish to resume your studies you have to contact the Student office and ask for re-registration. Re-registration for courses is only possible if the course in not full.

If it is not possible for you to study for a certain period, but you plan to continue studies later, you can apply for a study break. In certain circumstances you can be granted a guaranteed place on the programme on your return. Otherwise, you may resume your studies if there is place in the programme.
Contact studieinfo@astro.su.se if you wish to apply for a study break.
Studying with a disability
We welcome all students and are aware that everyone has different pre-requisites. For those of you who need extra support, it is important to know that this is available. As a first step, you should make application for support to the Student Services by using an electronic form. Together with the co-ordinator at Student Services, you can discuss your individual needs, and receive recommendations for educational support. Based on these recommendations, you can then discuss with our Student Counsellor what is most convenient in the courses you study in astronomy. For instance, it may be about requiring extra writing time at the exam, or sitting in smaller groups at the exam.
More information is available on the University's website.
Date and time for the exam can be found in the course schedule, avalible on Athena or on the course web page.
For details about the examiniation in your course, please read the infomation on the course page on Athena. Or contact the course coodrinator. You regsiter to all written exams in Ladok.
Every year in August we arragne for re-examn in all our courses. The re-exam is usally during one week in late August (the week before the autmn semester starts). To regsiter for an re-exam during this week you need to send an e-mail to studieinfo@astro.su.se, before June 9.
If you can not find the re-examn for your course in the schedule above, it is likely that the course have a different examination fromat. Questions can be sent to studieinfo@astro.su.se.
Examination rules
Below you will find a summary of some important points that are applicable in our examinations rooms.
You may join the examination no later than 30 minutes after the examination has begun
You may leave the examination room at the earliest 30 minutes after the examination has begun
Communication with other students during the examination is naturally not allowed.
Turn off your mobile phone!
Place you bag, outer clothes etc well visible in the aisle near you, or hang your belongings on the hooks on the wall
Show your ID when you submit your examination
Your name and personal number should only appear on the cover page
Tick on the cover page which questions you have answered
It is important that you write your complete code on all the exam papers. The code is on the cover page; the last digit or the two last digits are individual. Make a note of these if you want to see your result on the Learning Platform Athena.
Do you intend taking your Bachelor's or Master's degree in the coming year? Then it is time to consider in which area you would like to do your research project (thesis). Are you more interested in analysing observations or calculating models? You will find an overview of our various research areas on our research pages. Each year in December we arrange an information meeting where the various research groups present themselves.
The Magnus Axelsson Prize is awarded annually to a student or a PhD student who presents an innovative idea for educational development within a course/programme at the Department of Physics (Fysikum) and/or the Department of Astronomy, or within outreach.
Student influence
As a student at Stockholm University, there are several ways that you can be involved and influence your education.
Information how to be involved in you education
We constantly strife to develop and improve our courses. One of the most important ways of doing this is through the course evaluation which is carried out at the end of each course. Here the student has the possibility of giving feedback on what was good with the course, and what can be improved upon.
The Department of Physics Student Council (FÄR) is part of the Student Union at Stockholm University and consists of a group of students whose aim is to promote the study environment and development of courses in physics and astronomy, from the prospective of the student. The Student Council has representatives on committees that are engaged in issues from equality to public relations activities and undergraduate studies. As a student, your voice is important! Please contact the Department of Physics Student Council (FÄR) for more information on how you can become involved and gain influence.
E-mail: far@fysik.su.se
Most major decisions concerning education are made by the Department Board. The Board proposes, for example, changes to course syllabi or changes in course literature. They also discuss questions of a more general nature that may affect education. In order to ensure student influence over decisions taken, two student representatives are included as members of the Board. These students are appointed by the Student Union through the Department of Physics Student Council (FÄR).
Student resources
One or two times per semester, we arrange "Astro meetings" mainly aimed at our students in the Bachelor program in astronomy. These are excellent opportunities to get to know employees and other students in astronomy. The meetings are filled with short lectures, visits to the AlbaNova telescope, information about studies and the labor market, and informal meetings with doctoral students and researchers in astronomy. As a bachelor student in astronomy, you will automatically be invited to these meetings via e-mail and the learning platform Athena. If you are unsure of where your invitation is, you can always contact studieinfo@astro.su.se.
The Stockholm University Library at Frescati is the largest university library in the Nordic countries and there you will also find some of the books included on our course literature.

You can find a limited selection of astronomical literature in our reference library. It is located in the middle Common Room by the entrance to the Department. These books may not be borrowed, but are available as reference literature.

At the eastern end of the Department corridor there is a magazine shelf with current issues of astronomical and scientific journals.
We have a computer room with a number of Debain Linux workstations in the Department corridor, in Room FC62/C6:1048. This room is intended as a workplace for our students on the graduate courses and for research work. To gain access to the room and the student computers, please contact the Student office.

Some courses require access to computers and software from the Department. The Department has a number of laptops that are primarily used for computer exercises on current courses, but can also be borrowed for other course work, if available. Please contact the teacher or assistant on your course if you need access to a laptop.
More information on Stockholm University's digital services can be found here.
IT for students
Digital tools and services
Floor 6 in AlbaNovas tower has study spaces and meeting rooms which can be used freely by all students in AlbaNova.
Student life
Stockholm University is a metropolitan university, which is reflected in the student life. As a student at Stockholm University, you have many opportunities to live a rich student life. Virtually every day activities are organised for students by students, on or around the campus.
The Natural Sciences faculty club
The Natural Sciences faculty club (NF) is a student association for all the science programmes at Stockholm University. NF is responsible for Insparquen, organising Student Spex and pubs, paint ball, Halloween parties and much more. Since NF is faculty-wide, there you will meet students from other science programmes, for example, biology or chemistry. As an astronomy student you are welcome to get involved in NF and take part in their activities. More information is available on the NF website.
Stockholm University Student Union
Stockholm University Student Union (SUS) is a student organisation that is common to the whole university. Through membership of SUS you can collect queue days in SSSB's student accommodation queue and avail of a number of discounts, for example, at restaurants and sports facilities on the university campus. The Student Union promotes your student rights, so if you are interested in being involved in these matters, it is a good idea to have a look at the Student Union website.
As a student at Stockholm University, you have a variety of different forms of exercise to choose from. At the AlbaNova campus there is an outdoor gym. About a minute's walk from the underground station Universitetet, is Frescati Hall, a sports hall in the middle of the campus, where there is also a well-equipped gym.
Stockholm Students Sports Association (Stockholms Studenters IF) is a sports association which has recurring activities every week in acrobatics and gymnastics, badminton, basketball, table tennis, dance, football, fencing, floorball, kickboxing, skating, cross-country skiing, running, orienteering, diving, swimming, tennis, volleyball, yoga and so much more!
Student Office
At the Student Office, you as a student can get information and help with administration around your studies at Fysikum. You can contact the student office to re-register for a course, get signed transcripts and registration certificates, or access cards to AlbaNova. This is also where you should turn if you want to withdraw from a course or take a break from a program. The Student Office is also where you can pick up corrected laboratory reports and exams, and buy course compendiums. Old exam papers and solutions can be borrowed from the office for copying.
Student office
Visiting address

AlbaNova universitetscentrum

Room: B4:1001

Roslagstullsbacken 21, Stockholm
Always enter your social security number when contacting the student office! Also leave the title with the case number and previous correspondence in the letters as long as the case is ongoing.
Office hours

All weekdays except Wednesdays at 10:00-11:30 and 13:00-15:00.
Academic advisor
At the academic advisor you can ask about applications and admission, courses and eligibility or degrees and career. If your studies are not going according to plan, the academic advisor can help you create an individual study plan.
Academic advisor
Visiting address

AlbaNova, Corridor B4 next to the Student Office.
Online counseling

Online counseling is available via Zoom. You are welcome to contact us to schedule an online meeting.
Office hours

Drop-in on Mondays and Wednesdays 12:00-13:00. You are also welcome to book an appointment.
Phone hours

Monday and Wednesday 09:00-11:00.
Irregular office hours

Phone and drop-in cancelled on Wednesday November 29.
Last updated: May 29, 2023
Source: Department of Astronomy