Study with us
Humans have always looked up with wonder at the night sky. That same human curiosity lies at the heart of astronomy as a science, and now we have mathematics, physics, chemistry and computer science as tools to help us find the answers.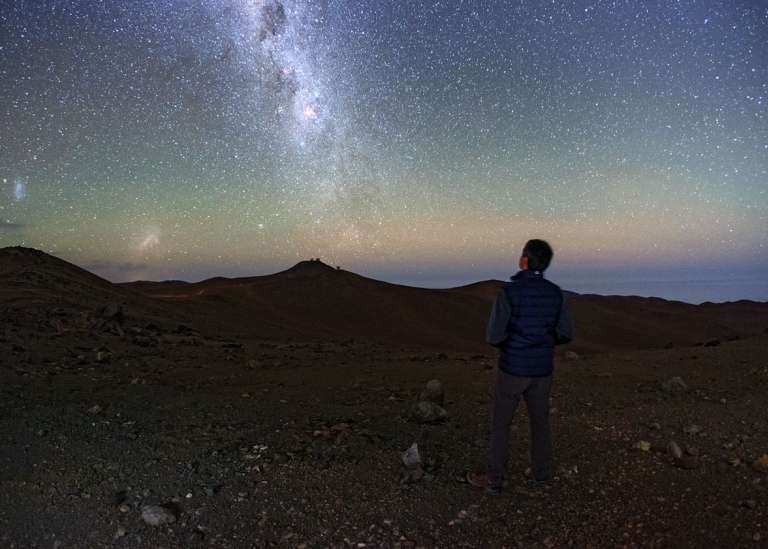 We are Sweden's largest university department for the study of astronomy. If you already have an undergraduate education in astronomy or physics, we offer a Master's programme (given in English) that will further deepen your knowledge. During the second year of the programme you will do a project which will allow you to experience research first-hand.

If you would like to pursue a career as a researcher in astronomy, we also offer the opportunity to apply for PhD studies with us.
Our courses and programmes
We offer complete educational programmes as well as freestanding courses covering a wide range of topics within the feild of astronomy. The programmes are primarily aimed at students pursuing a degree, and provide both broad insight and in-depth knowledge in different areas of physics.
Read more abourt our courses and programmes.
Strong research links
All teachers in our courses are active researchers. This means that the content of the courses always includes up-to-date knowledge. The department conducts distinguished research in both theoretical and observational astronomy. The researchers at the department have access to the world's largest telescopes, both terrestrial and space-based, and the objects studied can be as close as the sun or as far away as the most distant galaxies.

Modern astronomy relies strongly on computers which are used to develop models, simulate complicated events, and analyze data from telescopes. When you study astronomy with us you will learn both the underlying theory and the way research is done in practice. Most of our courses include laboratory sessions. In order to understand and use data in the most effective way it is important to know how telescopes work. Among our most appreciated courses are those in astronomical observations – using our own telescope in AlbaNova and then real research telescopes.
Labor market
Studying astronomy provides you with knowledge and skills such as analytical thinking, problem-solving, data analysis and visualization, and the ability to work in groups. After graduation you can work with research and development in the public or private sector including everything from healthcare imaging to satellites. Knowledge in analyzing, modelling, and visualizing data has in recent years led astronomers to become sought after in areas such as data science and machine learning.
Small student groups
We aim to have close contact between students and teachers. Therefore, we have small student groups in nearly all the courses both at Bachelor's and Master's level. This makes it easy to ask questions and enables you to quickly get to know your fellow students.
Study environment
The modern Stockholm Observatory, now the Department of Astronomy at Stockholm University, dates its ancestry to the first observatory in Stockholm, which was inaugurated in 1753. Since 1973, we are a department within the Faculty of Science at Stockholm University.
Today, we are located in modern premises at AlbaNova University Centre, the Stockholm Centre for Physics, Astronomy and Biotechnology. AlbaNova is located near Stockholm city centre, at Roslagstull, within walking distance of both Stockholm University's other buildings and the Royal Institute of Technology.
Student office
Visiting address

AlbaNova universitetscentrum

Room: B4:1001

Roslagstullsbacken 21, Stockholm
Always enter your social security number when contacting the student office! Also leave the title with the case number and previous correspondence in the letters as long as the case is ongoing.
Office hours

All weekdays except Wednesdays at 10:00-11:30 and 13:00-15:00.
Academic advisor
Visiting address

AlbaNova, Corridor B4 next to the Student Office.
Online counseling

Online counseling is available via Zoom. You are welcome to contact us to schedule an online meeting.
Office hours

Drop-in on Mondays and Wednesdays 12:00-13:00. You are also welcome to book an appointment.
Phone hours

Monday and Wednesday 09:00-11:00.
Irregular office hours

Phone and drop-in cancelled on Wednesday November 29.
Last updated: May 2, 2022
Source: Department of Astronomy