Ulrika Arhsjö successfully defended her thesis
On Tuesday, June 14th, Ulrika defended her thesis: "Essays on Economic Disadvantage. Criminal Justice, Gender and Social Mobility" in Nordenskiöldsalen, Geovetenskapens hus.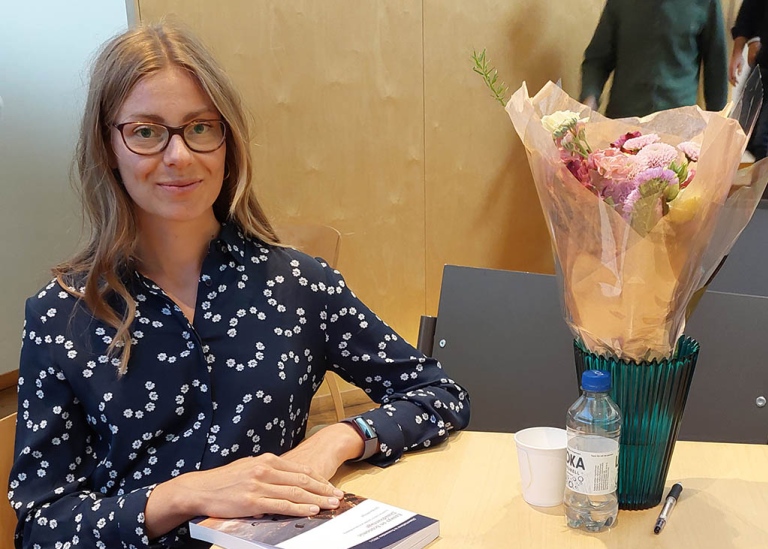 The thesis consists of four chapters that touch upon different aspects of structural disadvantage in society.
Chapters one and two consider the workings of the criminal justice system. In the first essay, Ulrika studies the effects of different criminal sanctions for young offenders, and in particular evaluates labor market effects of court-ordered community service.
The second essay, written together with Susan Niknami and Mårten Palme, explores to what extent social groups shape outcomes in criminal trials; in other words, if judicial decision-makers sentence defendants who are more alike themselves in terms of observable attributes differently.
In the third essay, co-authored with René Karadakic and Joachim Kahr Rasmussen, the trend in intergenerational income mobility in labor earnings is studied, in light of the great change in female labor supply over the past half-century.
Finally, the fourth essay describes the evolution of the gender wage gap in Sweden between 1968 and 2019, accounting for labor supply, wage inequality and selection into employment.
A big thank you to Professor Julien Grenet of Paris School of Economics for the fantastic discussion.
We would also like to express our sincerest congratulations to Ulrika on her Ph.D. and wish her all the best in her future position at Stockholm School of Economics!
Last updated: June 20, 2022
Source: Department of Economics