Experiments in Premodern Comparative History, 7,5 hp
A new national course in history on doctoral level will be given in the fall semester of 2023, in collaboration between Göteborg, Lund and Stockholm Universities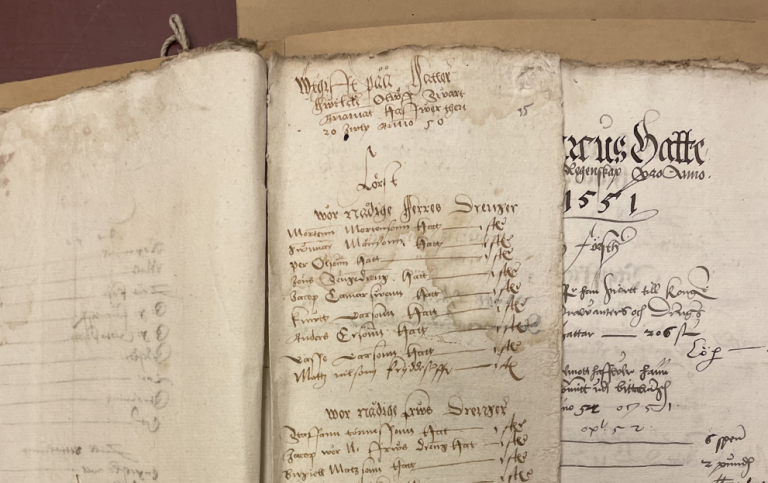 From the accounts of the royal wardrobe, 1551, Slottsarkivet/Riksarkivet. Photo: Sofia Ekelund
The purpose of the course is for participants to deepen their knowledge of comparative methods and how they might be used in research on premodern history. The course delves into four interrelated themes: comparisons on a global level; how to generalise from case studies and comparative perspectives; comparisons on micro level; and comparisons of the distant past with the present. Participants will also develop their abilities to critically analyse premodern archives, source, book and museum collections as well as identifying case studies that are compatible and incompatible with their own research. The course also includes excursions to archives and museums in the Stockholm area.
The course will be given in the fall semester of 2023 and is comprised of two in-person workshops in Stockholm, and two webinars discussing readings.
Workshop 1: 18-19 October: Global comparisons; Case study presentations; Excursion
Webinar 1: 2 November: Constructing a case
Webinar 2: 16 November: Comparing the past to the present
Workshop 2: 29-30 November: Micro-historical comparison; Case study presentations; Excursion
Teachers
Mats Hallenberg, Stockholm, Lisa Hellman, Lund, Wojtek Jezierski, Göteborg, Sari Nauman, Göteborg, Svante Norrhem, Lund & Karin Sennefelt, Stockholm
The Department of History at Stockholm university is able to cover meals at the workshops for all participants, but not costs for travel and lodging.
Deadline for applications:
18 September 2023.
For more information, please contact Karin Sennefelt
Last updated: June 14, 2023
Source: Historiska institutionen