Medals
Stockholm University's large gold medal and gold medal of the 8th size are awarded to people who have, in different ways, helped to further the work of the university.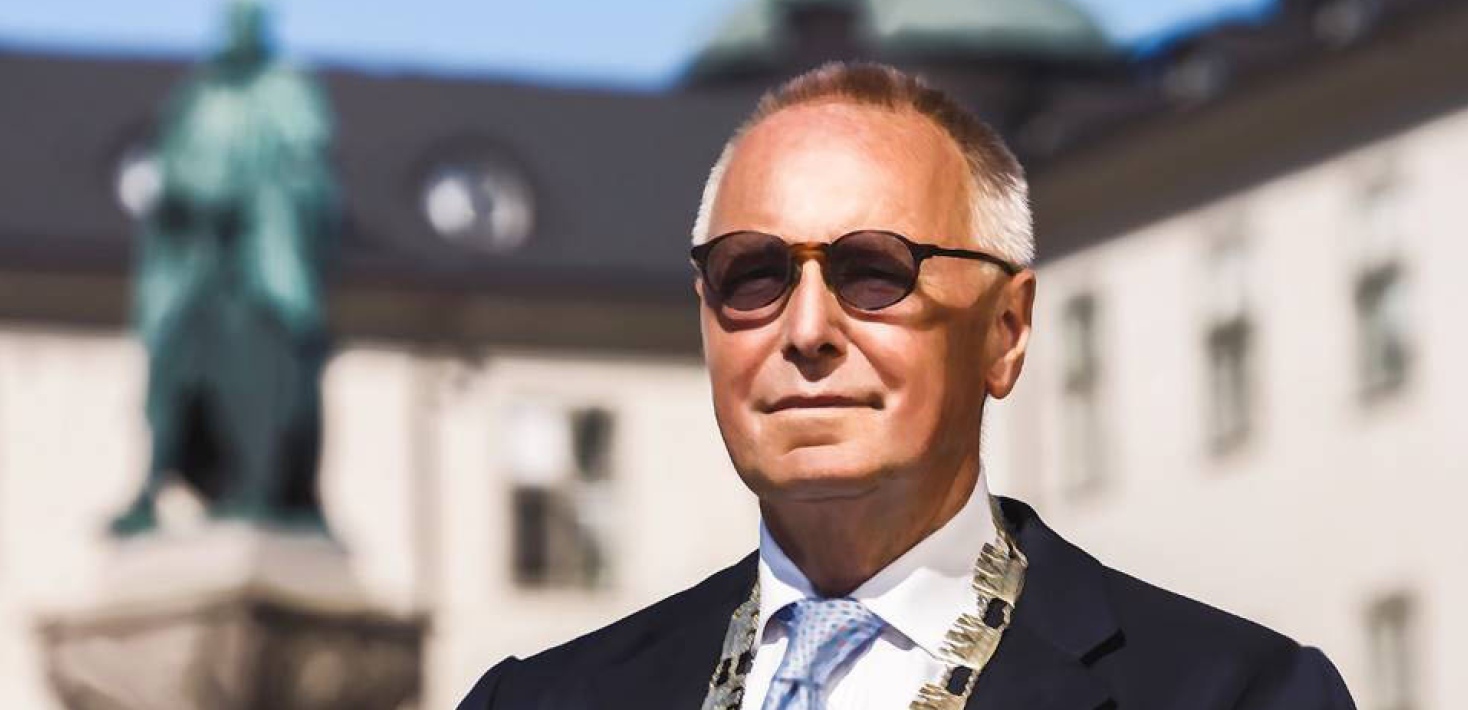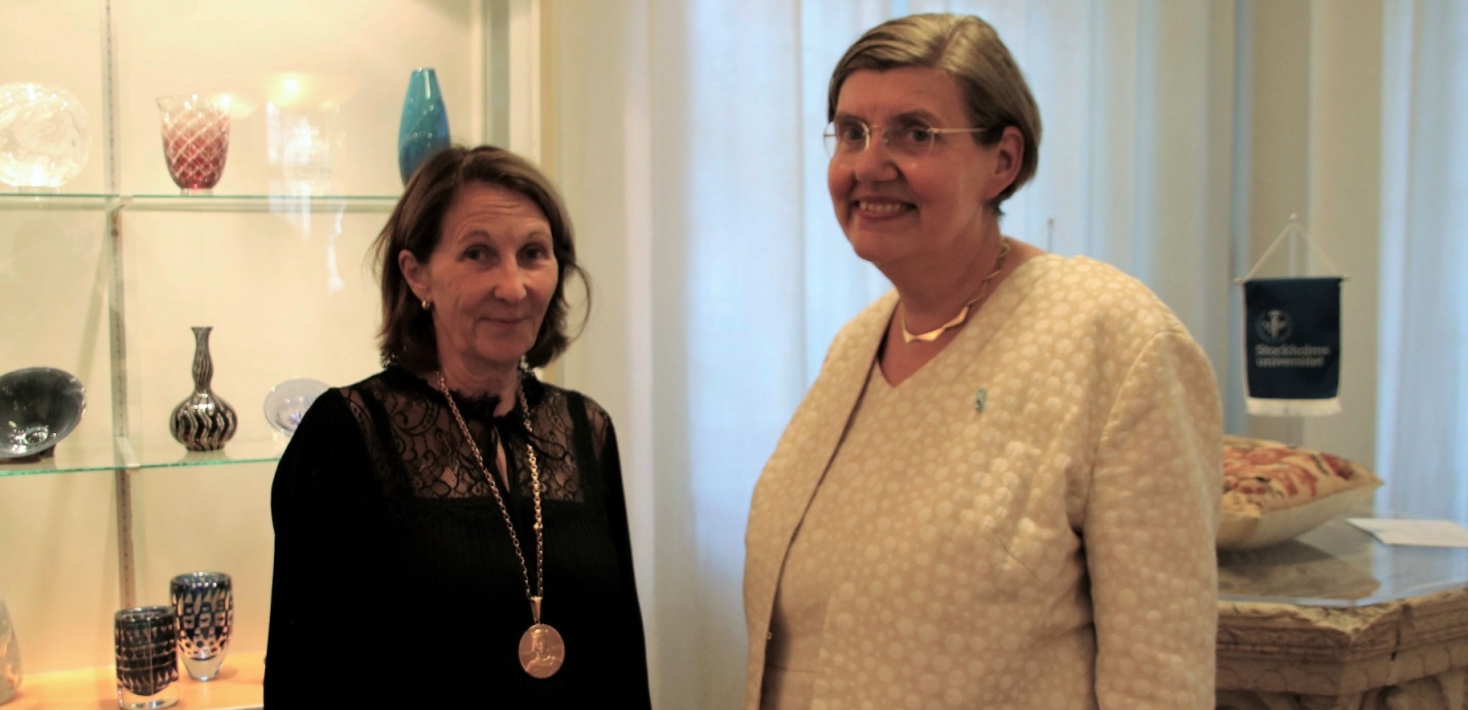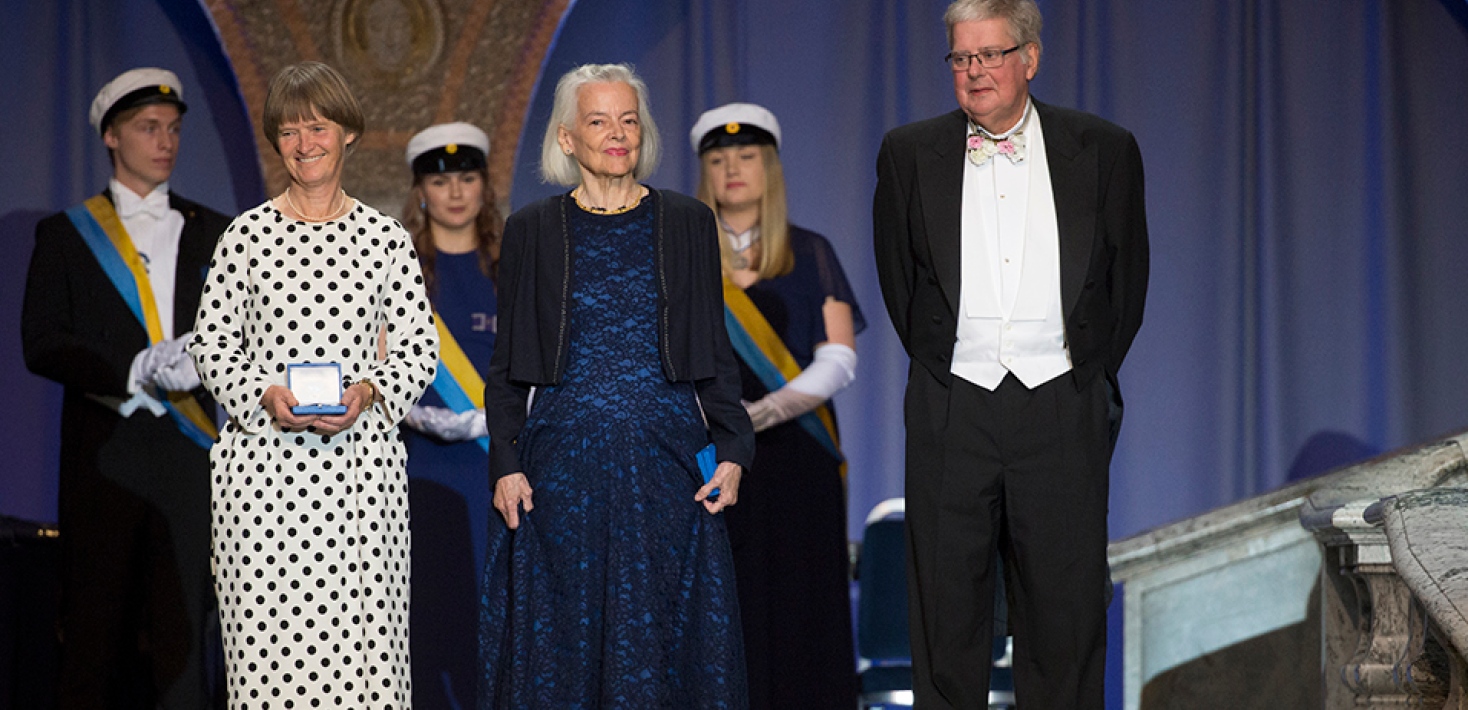 Stockholm University's large gold medal
Stockholm University's large gold medal, worn around the neck, was instituted in 1990 and is awarded to those who have significantly and over a long period of time worked to promote the university, its research or its teaching.
The President has decided to award the 2022 large gold medal to former senior judge Richard Ljungqvist.
Richard Ljungqvist
Former senior judge Richard Ljungqvist began his legal studies at Stockholm University in January 1968 and took his Master of Laws degree in November 1973. During this period, he also held a number of student union assignments, including serving as president of "Juridiska nämnden". 1971-1973 he was an administrative assistant in public law.
After a long and successful career with more than 40 years as both a district court and a court of appeal judge, as well as senior judge in the Administrative court in Stockholm, Richard Ljungqvist returned to Stockholm University in 2012 to take up the assignment as a legally qualified member of the Disciplinary Board, an assignment which he held for ten years.
Throughout these years, Richard Ljungqvist has worked tirelessly to safeguard the best interests of the University and of the student body. This has been done with the utmost commitment and great concern for legal certainty and equivalence in the evaluation of cases which have been submitted to the Board.
During the pandemic, a major increase in the number of disciplinary cases has resulted in heavy strain on the Disciplinary Board as well as a considerably increased workload. At the same time, focus has been put on the fundamental importance of the cases submitted to the Board, in order to safeguard the equivalence in the assessment of study performance, as well as the measures against cheating and various kinds of disorderly conduct.
These are all matters close to Richard Ljungqvist's heart. For some time, he was also the only legally qualified member, consequently taking on responsibilities far beyond what can be expected within the framework of the mandate.
In addition, he has been deeply involved in specific issues, not least through a memorandum on the examination of cases submitted to the Disciplinary Board at Stockholm University. In this document, he compiled his experience of ten years on the Board, thereby making a considerable contribution to future practice development at the University.
His efforts within one of the most vital areas for the University, both to ensure procedural safeguards in the assessment of study performance and to secure and develop the University's quality culture in teaching, are truly exceptional.
Richard Ljungqvist will be awarded during the Inauguration of professors and conferment of doctoral degrees 2022.
Previous recipients of the large gold medal
2020
Former Chair of the University Board, Kerstin Calissendorff
2017
Former Vice-Chancellor, Professor Kåre Bremer
2014
Former President of the Supreme Administrative Court Sten Heckscher
2011
CEO Staffan Salén
2009
Director Björn Wolrath
2002
Former Head of Administration Leif Lindfors
1997
Architect Ralph Erskine
Architect Carl Nyrén
1996
Mrs. Signhild Engkvist
1993
Former Head of Administration Rune Lindquist
1991
President of the Swedish Parliament's Education Committee Lars Gustafsson
Builder Reinhold Gustafsson
Former Vice-Chancellor, Professor Emeritus Gunnar Hoppe
Stockholm University's gold medal of the 8th size
Stockholm University's gold medal of the 8th size, worn suspended by a ribbon, was instituted in 2010 and is granted to those who have contributed in a meaningful way to strengthening the university, its research or its teaching.
The President has decided to award the 2021 medal to Denny Vågerö and Cynthia de Wit.
Denny Vågerö
Denny Vågerö became a trailblazer for research in health inequality, a field which was only rarely studied in Sweden in the 1990's. In the year 2000 he, Finn Diderichsen and Ulf Lundberg started the interdisciplinary research institute Centre for Health Equity Studies (CHESS) at Stockholm University in collaboration with Karolinska Institutet and with financial support from the two universities and from the Swedish Council for Social Research (SFR). The preparations which led to the establishment of CHESS were extensive and Vågerö was also the Director of the Institute during its first nine years. His leadership of the Institute was successful and to a high degree based on external funding. Also, it was characterized by great care for the staff.
In 2008, when he initiated an international master's programme in public health sciences at the Faculty of Social Sciences, this turned out to be a crucial choice for the future activities of the Institute. In the same year, Denny Vågerö and Olle Lundberg, the then incoming Director, initiated the school of research which paved the way, in 2013, for CHESS to shoulder the responsibility for a doctoral programme in public health sciences at Stockholm University.
Throughout his employment at the University, he has promoted research as well as teaching in public health sciences with a social science orientation. The academic area for human science has also profited from his membership in the World Health Organization's "Commission on Social Determinants of Health" and in the Royal Swedish Academy of Sciences. New generations have followed in his footsteps and contributed to the further success of the field.
In 2018, the Department of Public Health Sciences was established through a merger between the two research institutes CHESS and SoRAD (the Centre for Social Research on Alcohol and Drugs). This development has been made possible not least thanks to Denny Vågerö's previous exceptional contributions. His achievements have thus been of vital importance for strengthening both research and teaching at Stockholm University.
Cynthia de Wit
As Professor of Environmental Science, Cynthia de Wit has for many years held a long line of assignments of vital importance for Stockholm University's development into its present leading position within environmental science.
At an early, decisive stage when the activities at the Institute of Applied Environmental Science were transferred from the Swedish Environmental Protection Agency to Stockholm University, she had a leading role as its Director and Assistant director, in the transformation which laid the foundation for today's strong academic activities.
During more than 20 years, from its inception until 2020, Cynthia de Wit was a driving force as chair of Stockholm University's Environmental Council. She was the chair of the Bolin Centre for Climate Research from 2013, section dean and previously deputy section dean for Earth and Environmental Sciences. Thus, for a number of years, she was also a member of the Faculty Board, as well as an alternate member of the University Board and member of the Ethics Council at Stockholm University.
Throughout the years, de Wit has demonstrated great responsibility when taking on further important roles of leadership within the University, and she has made strong contributions to further its activities. Cynthia de Wit is a diplomatic leader who has shown great integrity, professionalism and energy when fearlessly tackling the various challenges she has had to face as an academic and administrative leader. Her profound involvement in environmental issues, based on her own research on environmental toxins, has been of vital importance in giving these questions the urgent priority that they deserve within the University for the future.
Previous recipients of the gold medal of the 8th size
Professor Johan Kleman
Professor Margaretha Rossholm Lagerlöf
Study counselor Birgitta Åkerman
2018
Ishak Alaton, Ishak bey, posthumous
Chairman Agneta Bladh
Professor Göran Scharmer
2017
Senior administrative officer Maud Giessler
2016
Academy steward Inga Horndahl
Professor Stefan Nordlund
Professor Gunnar Svensson
2015
Professor em. Birgitta Bremer
Professor em. Harry Flam
2013
Professor Anders Gustavsson
Professor Lena Kautsky
Former CEO Thomas Norell
2012
Mr. Amine Benhajji
Director Pia Bjerén Fürstenbach
2011
Professor Gunnel Engwall
Senior advisor Athanasios Psaroulis
2010
Ph.D. Birgitta Eriksson
Director Johan Stålhand
Last updated: September 21, 2022
Source: Office of the President