Art on campus
The Frescati campus hosts a wealth of art, including more than thirty works commissioned by Sweden's Public Art Agency (Statens Konstråd) and owned, maintained and administered by Akademiska Hus in Stockholm.
Early in the planning of the campus (in the 1960's), art was incorporated into the University's vision. The plan wasn't to merely enrich the public's spaces, but also to strengthen the role of art and even to challenge assumptions. The art was envisioned at the same time as the modernist campus's architecture and design to reflect the University's mission and aspirations.
Sculpture in the world's first national city park
The art on campus is, for the most part, openly displayed for the contemplation of the public, creating what has become a cultural archive. The sculptures, taken as a whole, create the feeling of a sprawling sculpture park. One of the bigger works is "Terrakotta" by the artists Marianne and Sivert Lindblom.
"My task is to create a form which the viewer fills with content. The form I design can be compared to a vessel. I decide exactly what the vessel will look like. The viewer fills the vessel with "experiential mass" which is forced to adapt to the shape of the vessel…. And note that there is a substantial difference between filling it with milk or sulphuric acid."
(from "Configurations: Art and architecture at Stockholm University". 2012, p. 67)
Spökslottet on Drottninggatan – Renaissance, baroque and Classical art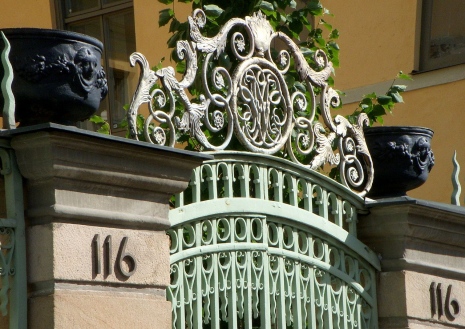 Spökslottet (aka "Scheffler Palace" or "Haunted Mansion") is a treasure trove for anyone interested in art and history. The building dates from the early 1700s and the collection contains paintings from the 1500s to the 1800s as well as Orrefors glass. Most of the older paintings were donated to Stockholm University College in 1884 from the Johan Adolf Berg Foundation, which Stockholm University administers.
For more information about art at the university, contact konstsamlingarna@su.se.