Mimer Seminar Room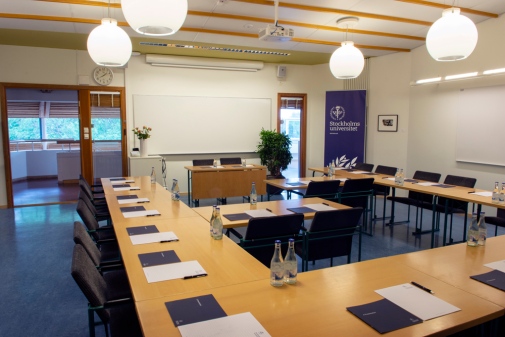 In the seminar room Mimer on level 7 in Aula Magna, you can arrange smaller meetings, either in connection with an event in one of our larger premises, or completely independent.
Meeting room layout
Basic layout: 18-22 persons, U-seating. (22 people possible if the inside of the "U" is used). Maximum seating: 30 persons, theatre seating.
If another room layout than the basic is desired a fee (SEK 700) will be charged for refurnishing and restoring.
Equipment available in the room and included in the price
Projector
Whiteboard
Wireless internet connection
Flipcharts and felt pens
Hearing loop
Can be ordered / rented by the Conference Service
Computer or other technical equipment
Conference equipment such as notepads and pencils
Water or other food or drink
More information
For more information and booking contact Conference Services at konferensservice@su.se.