Booking and Conference Support
Conference Services offers many different services. You can book venues in Aula Magna and throughout Stockholm University as well as other support services. We can help you find the right place for your event.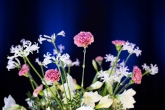 We can also help you arrange your event by creating a packet of services tailored to your needs: application websites, conference fees, name tags, catering, flowers and more. Contact us to learn more and get an estimate.
Send your request for booking or an estimate to konferensservice@su.se and we'll get back to you soon.
Welcome!