Nature in and around the campus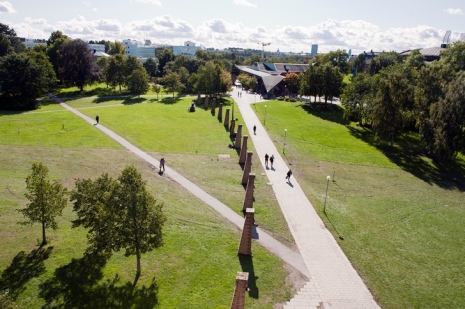 The area's outdoor environment has been marked by the different modernist ideals of the time, where scale, simplicity and clean lines were key concepts. In the planning of the University buildings in the 1970s, there was a desire to preserve a green passage from east to west, between the Arrhenius Laboratories and Södra huset, as dispersal routes for insects and birds from the Haga Park to Djurgården. The latest addition to the area are the wetlands that were created at the Bergius Botanic Garden in 2009. Other areas worth visiting include Lappkärret, Laduviken and Spegeldammen at Stora Skuggan, and the marshes at Lilla Skuggan.
The Royal National City Park - the world's first national city park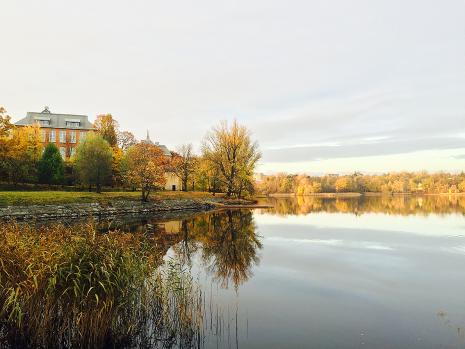 The University is located in the northern part of the National City Park, which spans three municipalities (Solna, Stockholm and Lidingö) and forms a historic landscape interwoven with forests, open fields, parks, beaches and buildings. In 1995, the area was designated the world's first national city park, an important area for the national cultural heritage, the city's ecology, and human recreation. The park harbours more than 800 species of flowering plants, 1,200 species of beetles, and more than 100 species of nesting birds.
Read more about the wetland area in the Bergius Botanic Garden.
Arboreta
There are three arboreta in Frescati: in the Bergius Botanic Garden; around the Arrhenius Laboratories, Geoscience building and Södra huset; and in Frescati Hage. The word arboretum comes from Latin and means a collection of trees. There are over thirty such areas in Sweden, at botanical gardens, universities, city parks and private collections, often around castles and mansions.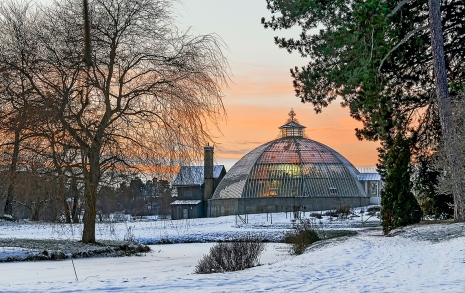 The Bergius Botanic Garden has been in this location since 1885 and is laid out and maintained according to scientific principlies. It contains more than 200 species of trees, and the garden has a long-term care and development plan for preserving and rejuvenating this tree population.
The large field between the Arrhenius Laboratories and Södra huset used to be the site of the Royal Swedish Academy of Agriculture's experimental field for new trees and shrubs from the early 1800s until the 1960s. Many of these trees still stand there today.
The former Royal College of Forestry was located in Frescati Hage between 1915 and 1977. Various trees were planted here for study purposes.
In the 1990s, two enthusiasts, Börje Drakenberg (botanist, forest biologist and former teacher at the Royal College of Forestry) and Lars Bergman (professor of psychology), started a project to visualise the forgotten collections of trees and give them the attention they deserved. They inventoried and affixed more than 1,200 trees or groups of trees with labels. Another 100 trees will labelled in 2013.
Read more about Frescati's rare trees.