General campus opening hours
The University's campuses stretch from Sveaplan in the south to the Bergius Botanic Garden in the north. Opening hours for particular buildings or services, the Student Union, restaurants, etc. are to be found on the relevant websites, or on site.
Södra Huset, Buildings A-F at Frescati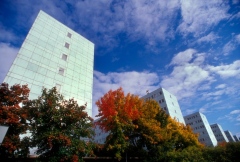 Monday–Thurday: Open 06.30–22.00
Friday : Open 06.30–20.00
Saturday–Sunday: Open 08.00–18.00
Closed "red" days and national public holidays
The University is closed on all national public holidays, so-called "red days" or röda dagar. Variations may occur at individual buildings and departments. Contact the respective department or office.
Departments
See the webpage for departments and centres: su.se/departments
Student Services
Infocenter (Studenthuset)
Universitetsvägen 2B, Frescati.
Studenthuset and Infocenter – information and opening hours
Allhuset opening hours at Student's Nobel Night Cap 2019
Computer room is closed from 27th of November to 18th of December. Please during this time go to the Computer room A5, Södra huset or D405 Arrhenius laboratory (entrance: Svante Arrhenius väg 20C).
The staff gym is closed between the 9th and 12th of December
The study areas on 2nd floor are closed from 29th of November to 11th of December. Please during this time go to Studenthuset or Södra huset.
Service Centre – Frescati södra
Building D, floor 4 (next to Stockholm University Library)
Opening hours: Monday–Friday, 08.00–16.30
Support, contacts or requests: su.se/serviceportalen
IT Helpdesk
Closed weekends and "red" days.
Support, contacts or requests: su.se/serviceportalen
Registrar
Monday–Friday: Open 09.00–11.00 and 13.00–15.00
Email: registrator@su.se
University Library
Information available on su.se/library
Student Union
Information available on the Student Union website
Frescatihallen – Campus sports hall
Information available on
SU-Butiken – SU shop
Information available on SU-Butiken's webpage