Conferment of Master's Degrees
EVENT
Date:
20 November 2020, 6.00 PM
-
20 November 2020, 9.00 PM
Venue:
Aula Magna
Twice a year students who have completed a degree at an advanced level will be conferred their Master's degrees in Aula Magna.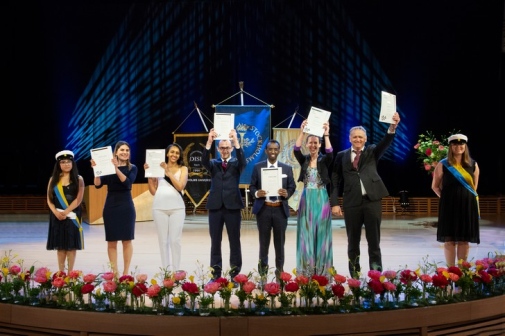 Congratulations to all Master's graduates!
An invitation to the conferment ceremony Friday 20 November will be sent to those who have applied for a formal degree certificate for the Master's degree (or equivalent on a Master's level) not later than 15 July 2020.
Detailed information for participants
About the ceremony
The Conferment of Master's Degrees is an old academic tradition but a fairly new ceremony at Stockholm University. The first was held in 1997. The word promotion (in the Swedish Magisterpromotion) comes from the latin word promovere, which translates to move forward or promote.
During the ceremony the graduates (promovendi) step up onto one side of Aula Magna's stage and, after having received the diploma, leave by the other side. This used to symbolize that they will now move forward in life, and have the right to teach others. Today it is a memorable occasion to celebrate your Master's degree!
The ceremony is held in the great auditorium of Aula Magna and is followed by a cocktail reception with music in the Gallery and Foyer.
The ceremony is broadcast live here or on su.se/play. The film can be found on the same page afterwards.