Inauguration of New Professors and Conferment of Doctoral Degrees
The combined ceremony for the conferment of doctoral degrees and inauguration of new professors will take place on Friday 28th September 2018 at 5 p.m. in Stockholm City Hall.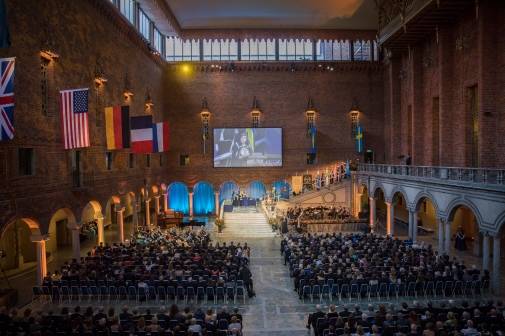 The inauguration and conferment ceremony is Stockholm University's largest ceremonial occasion and it takes place in the Stockholm City Hall the last Friday in September every year.
This year 149 new doctors will attend the ceremony. Eleven jubilee doctors, of whom five are absent, who defended their dissertation 50 years ago, will also be conferred. 23 new professors will be introduced and the Stockholm University Gold Medal and the Educational Prize of the Year's Teacher will be awarded.
During the ceremony nine new honorary doctors will also be conferred. All of them have contributed in distinctive ways to the University's activities in research and education. The new honorary doctors are Nora Berend, Stina Ekblad, Ilga Zagorska, Lena ten Hoopen, Susan Sandall, Rita Colwell, Roland Beckmann, Sergio Albeverio and Ulrike Lohmann.
The installation lecture will be held by Anna Cullhed, Professor of Literature, and the ceremony will be followed by banquet in the Golden Hall.
The ceremony will be broadcast live on su.se/play.