Honorary doctors, new professors and doctors were honored in Stockholm City Hall
The Stockholm City Hall was fully packed at Stockholm University's conferment ceremony of new doctors and new professors. The Vice-Chancellor highlighted the importance of the University's independent research and its importance to the surrounding society.
On Friday 29 September, it was time for Stockholm University's annual conferment ceremony in the Stockholm City Hall. New professors and doctors, including seven jubilee doctors and nine honorary doctorates were awarded.
At the ceremony, the Awards for excellent teaching for the year 2017 were handed out to a teacher from each faculty: Hildred Crill, Lisa Käll, Said Mahmoudi and Daniel Ritter. Professor Jenny White of the Stockholm University Institute for Turkish Studies held the installation lecture on the topic "Patterns in Turkish Culture".
The importance of research and higher education in society
In her introductory speech, Vice-Chancellor Astrid Söderbergh Widding congratulated all recipients and thanked them for their important contributions to research, the university and society.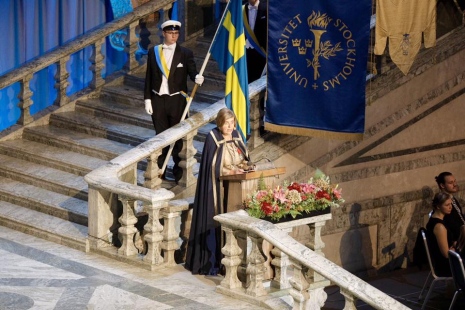 She emphasized the importance of internationalization and highlighted some of the international collaborations in which the university is involved.

She also added that we need research and higher education not only to promote future innovation, but above all to exist in its own right: so that Europe can develop in line with the vision and values ​​which once formed the basis of the European Union: for rationality and knowledge-seeking, for higher education and excellence in research, for collaboration and for the involvement of citizens.
Honorary doctors received awards
Among the honorary doctors present were the French former football player now writer, Lilian Thuram, American author and journalist Susan Faludi and the Director of the Stockholm Environment Institute, Johan Kuylenstierna, who received their awards.
"I am highly honored by Stockholm University's appointment of me as honorary doctor and I will, in my continued work against racism and for education, also show my appreciation of the role the university has given me through this," Lilian Thuram said in a comment after the ceremony.
Watch the ceremony at su.se/play
Pictures taken by photographer Niklas Björling
More pictures from the ceremony.
Photos: Niklas Björling
Last updated: March 20, 2018
Page editor: Helene Komlos Grill
Source: External Relations and Communications Office