Nobel Laureates enliven University's ceremony
Gowns, tailcoats, banners, garlands, a banquet and a dance. The ceremony in Stockholm City Hall was grand as ever this year, made even more impressive with two Nobel Laureates.
Stockholm University held their annual celebration to honor newly appointed professors and recent Ph.D. recipients on September 30th in Stockholm City Hall. There were more than 30 newly installed professors and 125 of the some 200 new doctors from this year. Seven jubilee doctorates and eight honorary doctorates were also conferred. The Pedagogical Prize was given to a teacher from each faculty: Lenita Freidenvall, Thomas Krigsman, Jan Storå och Johannes Wickbom. The Vice Chancellor awarded the university's Gold Medal to three people: Inga Horndahl from Conference Services, professor and former dean Stefan Nordlund from the Department of Biochemistry and Biophysics and professor and former dean Gunnar Svensson from the Department of Philosophy.
Academic freedom under threat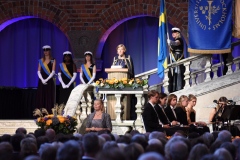 In her opening remarks, Vice Chancellor Astrid Söderbergh Widding highlighted the long history of internationalisation in universities from the middle ages, and how working across borders has grown even more important today. The Vice Chancellor also spoke about the current threat to academic freedom coming even from western movements like populism and nationalism.She further emphasised how terrorism threatens democratic values and how the university has a central role in demonstrating society's core values. Astrid Söderbergh Widding said that the new arrivals are a great resource for Sweden and offer universities a unique opportunity to internationalise.
"As an educational institution, we need to do everything in our power to contribute to the integration of those newly arrived and thusly to our shared future."
Speeches of Nobel Laureates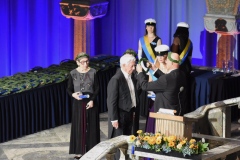 Two Nobel Laureates were among the honoured guests in City Hall and both gave speeches. Frank Wilczek, 2004 laureate and newly appointed professor in theoretical physics, gave the traditional speech for the ceremony. Mario Vargas Llosa, 2010 Nobel Prize in Literature and honorary doctorate in the Humanities Faculty, spoke at the banquet in the Golden Hall.
In her acceptance speech, State Secretary in Education Karin Röding emphasised the importance of strong educational institutions and congratulated Stockholm University for its placement on different ranking lists and the breadth of its publishing.
The evening ended with a dance in the Blue Hall.

Watch the film from the ceremony at su.se/play.
Last updated: October 13, 2016
Page editor: Per Larsson
Source: Communications Office