An Orientation Day filled with hope and expectation
EVENT
Date:
28 August 2019, 2.00 PM
-
28 August 2019, 4.30 PM
Venue:
Aula Magna
Please note! The information below corresponds to the Orientation Day arranged at the beginning of the current Spring semester 2019. The next Orientation Day will take place on August 28, 2019 and the program for the coming Orientation Day will be updated in this page as soon as it is available.
'I hope to make Swedish friends here', Hsin Yu said as she visited Orientation Day for international students on 22 January. 'I know one Swedish person so far, a student from the Department of Computer and Systems Sciences who did an exhange at our university in Taiwan.'
Computer and Systems Sciences was what Hsin Yu herself was going to study here and she was very curious to find out more about the Swedish educational system.
'I've heard that the education here is more free. You have a few hours' lectures and then you have a lot of study time to yourself. In Taiwan we have lectures from 8 to 5 every day.'
Wanting to learn Swedish
Snow - exotic to many of the newly arrived students - was, however, nothing new to Hsin Yu who had done a one-year Rotary exchange in Germany during her highschool years.
'I know a lot about Western culture already', she said. 'Now I would really like to learn Swedish.'
She and her friend Pei Fang went for a stroll at the exhibition outside the large Aula Magna auditorium, where they and the other visitors could meet Stockholm University staff and representatives for student organizations and external exhibitors. One of the stands conveniently belonged to the Department for Swedish Language and Multilingualism who offers free Swedish language courses for international students.
Equality and work-life balance
Yoeri van der Aerschot from Belgium already knew some Swedish as he had been an exchange student in Gävle two years ago. He was going to study International and Comparative Education and had arrived together with his Belgian girlfriend who he happened to have met in Gävle.
'It might be a stereotypical thing to say but I really like the Swedish work-life balance. And equality is important here, isn't it?' he said when asked why he had chosen to return to Sweden.
Speed-friending to break the ice
For anyone wanting to kick start their social life, Stockholm University Student Union arranged a popular speed-friending event. The participants got to play social bingo to break the ice and get to know each other.
Later on presentations of useful things to know were held by various university units and the student union in the Aula Magna auditorium. The new students were given information about IT and library services, the Academic Writing Service, health and security and many other things.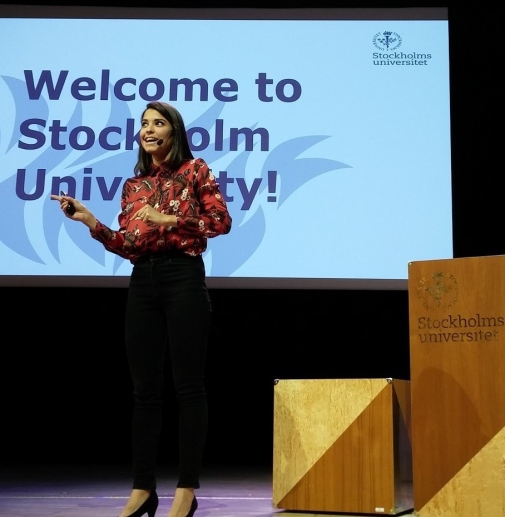 A chance to seize opportunities
'You have made a wise choice to study at Stockholm University', Vice President Clas Hättestrand said in his welcoming speech. 'At the end of your stay I hope that you can look back and say that this country and this university gave you opportunities, and that you seized those opportunities.'
The host of the evening, Adriana Jimenez Moreno, asked the newcomers to share their expectations of life in Sweden in a digital word cloud shown on the large screen onstage.
'I have already told you that there are no polar bears on the streets but there are hopefully other things that you have been looking forward to', she said, and the students were quick to grab their mobile phones and transmit replies such as "fika", "friends", "fun" and "Northern lights".
Tempting welcome activities
Anyone wishing to experience light phenomena in the Northern parts was probably thrilled to hear that the student union was planning trips to Norway, Russia and Lapland.
'Make sure you follow us on Instagram, hashtag sustudentkar, so that you don't miss any of our fun events', the student union's international coordinators urged the audience.
In the days and weeks to come Stockholm University Student Union offers a range of welcome activities such as guided campus tours, a trip to IKEA, a survival presentation and a welcome party. On Orientation Day a pub crawl on campus rounded off a very successful evening.
Text and photo: Karin Persson