Guided art tours and panel discussion on this year's Alumni Day
The Alumni Day 2017 was held on 17 October in Aula Magna. The event offered art tours, a panel discussion on the topic "Does art make a difference?", mingling and departmental activities.
For the fifth year Stockholm University hosted the Alumni Day in Aula Magna. The theme this year was "Art". Short guided art tours in Aula Magna were offered before the panel discussion started.
Alumna Eva Swartz Grimaldi, a member in the University Board, welcomed the alumni. The panel discussion, "Does art make a difference?" was moderated by Anna Wallgren.
Participating panellists were:
Richard Julin, Artistic Director of Accelerator at Stockholm University
Matti Kallioinen, Artist, who has an art work in the Stockholm University Library at Frescati, "The organism in the food chain and the dream world"
Magdalena Holdar, Senior Lecturer in Art History at the Department of Culture and Aesthetics at Stockholm University
Emelie Persson, Project Manager for "K Special" at SVT and alumna
Several departments from the university took the opportunity to present themselves: Child and Youth Studies, Media Studies, Political Science, Social Anthropology, and the Section for Earth and Environmental Science, which offered a spa treatment with 10,000 year-old clay.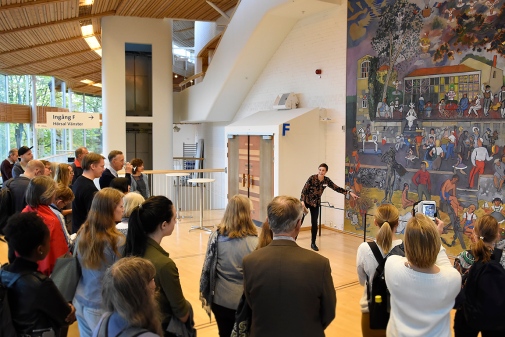 After the panel discussion, four departments arranged their own alumni events. The Department for Media Studies hosted a seminar on the theme "When art plays Monopoly" with Eva Esseen Arndorff from TriArtFilm. The Department of Biology Education (BIG) arranged a photo exhibition "Images of biology – from cell to ecosystem". The Department of History hosted a reception and seminar with Git Schevenius from Stockholm Film Festival on the theme "Future leaders within the cultural field". The Section for Earth and Environmental Sciences arranged an alumni event on the theme "The sea and labour market" in Geovetenskapens hus, which was followed by a GeoPub.