Major interest for Stockholm University at education fairs abroad
To meet students and inform about our study programmes in English, Stockholm University has during this autumn participated in education fairs in India, China and Indonesia.
"Meeting students abroad and seeing that there is such a big interest for our study programmes is fantastic. Stockholm is a wonderful place to study as it is offers student life which is varied, with its closeness to the city as well as to nature", says Ronald T Nordqvist, International Officer at Students Services who participated at the fairs in China and Indonesia.
With more than 75 master's programmes in English within science, social sciences, humanities and law, Stockholm University has a lot to offer international students. Many students also expressed interest to come to Sweden and its beautiful capital.
"We have met so many good students who wish to progress in their career path through further studies abroad. They are looking for high quality education and a programme that will prepare them for their desired future career. Sweden is also famous for innovation and creativity, team work and flexibility, and many students are aware that studies in Sweden can also provide them with soft skills that are valued on the job market. I hope that many of the students we have met find Stockholm to be their preferred study destination, we look forward to welcoming them to Stockholm University!" says Tina Larsson, International Officer at Students Services.
Questions students have revolved around application requirements, study programmes and their curriculum, education facilities, career opportunities, life in Stockholm and Sweden, and the weather in Scandinavia!
The education fairs in New Delhi in India and Yogyakarta and Jakarta in Indonesia were organised within the European Higher Education Fairs. The event in Beijing in China is called China Education Expo, an annual event which attracts more than 50,000 Chinese students each year. The visits in India, China and Indonesia also included campus tours and alumni events.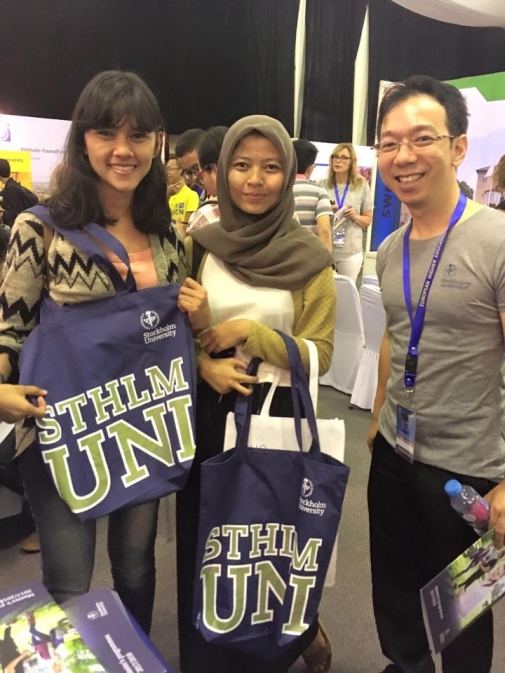 Representatives from Stockholm University's External Relations and Communications Office, Students Services, Stockholm Business School and the Department for Computer and Systems Sciences have participated in the various fairs. Excellent support was also given by Stockholm University alumni who replied to questions about what the student experience is really like.
"The information our alumni give prospective students is invaluable. They really know what study life in Stockholm is like, and we are so happy that so many of them attend these events each year to help us", says Ronald T Nordqvist.
Next step will be to invite the students to attend webinars, organised chats online which Stockholm organises during the continuation of the application period to give students more opportunities to ask questions and to learn more about what it is like to study at Stockholm University and Sweden.
"Meeting students in their home countries is so important. We hope to show that our University is an excellent choice both from the perspective of ranking and education quality, to the quality of life", says Helene Komlos Grill, Project Manager at Stockholm University's External Relations and Communications Office.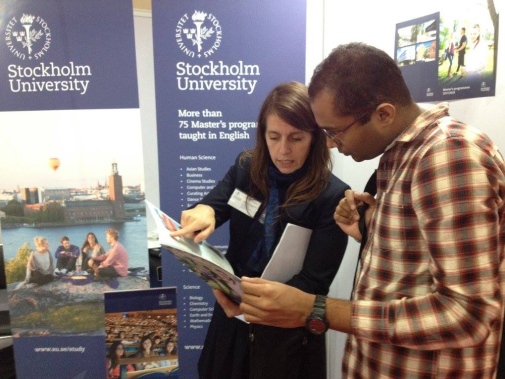 Last updated: November 22, 2016
Page editor: Helene Komlos Grill
Source: External Relations and Communications Office