Many visitors at Open Day
Open Day on 14 March was a chance for prospective students to visit Stockholm University and find out a little bit more about what it is like to study here.
The long corridors of one of the main buildings on campus, Södra huset, had been turned into an extensive education fair where the visitors could chat to students, study and career counsellors and other staff, to gather information about all the courses and programmes on offer.
Trial lectures
There were a wide range of trial lectures throughout the day. While the majority of them were held in Swedish, a few seminars were also carried out in English in order to accommodate non-Swedish speakers interested in studying in Sweden.
In his seminar 'Why study the Middle East? What's in it for me?' Senior Lecturer and Associate Professor Isa Blumi gave the audience a taste of Middle Eastern and North African Studies. He stressed the great historical, political and cultural importance of this part of the world and claimed that 'to study the Middle East is to study the world'.
Seminar aimed at international students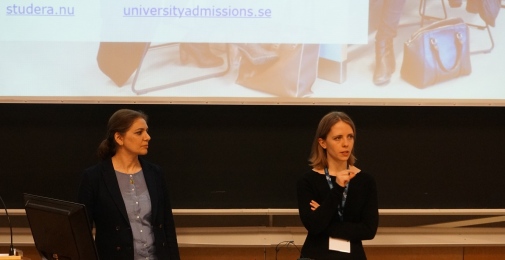 Admissions Officer Clara Tortellini and Study and Career Counsellor Firouzeh Esnaasharan presented the seminar 'Study at Stockholm University' which included a lot of useful information about how the Swedish higher education system works and how prospective students should go about applying for courses or programmes at Stockholm University.
Are you interested in studying at Stockholm University? You will find more information here.