Enthusiastic newcomers welcomed on Orientation Day
The Swedish winter lived up to its chilly reputation as snow was falling on campus when international students made their way to Aula Magna on Orientation Day on 16 January.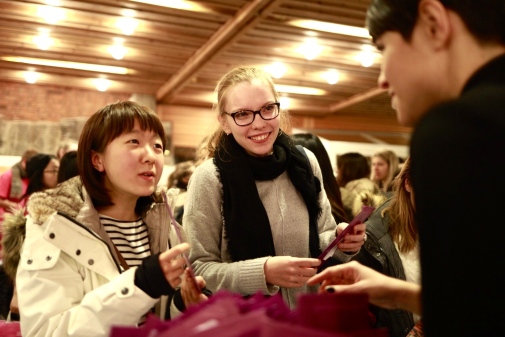 The host of the evening, Mr Ronald T. Nordqvist, reassured the newly arrived guests that the absence of polar bears was quite normal. Nor did they need to fear the infamous violent Viking temper as the average modern day Swedes are usually more peaceful and reasonable than their bearded ancestors. The long, wild-grown facial hair can still be spotted on Swedes today, though – especially among the trendy specimen living in Stockholm's internationally known hipster area Södermalm.
Desire to learn Swedish
Orientation Day is the first day of Stockholm University's Orientation Week for international students where information about practical matters such as banking, health care, IT services, student life and Swedish language courses is provided.
Vasiliki Tsapi from Greece was one of the visitors and expressed a strong interest in taking Swedish courses alongside her studies in psychoanalysis and culture.
– I really want to learn the language, she said. I also hope to get some information about IT services today.
A different sense of community
Vitor Manzon Lupo from Brazil was very excited about his future life as a student here. He became fascinated with the Swedish culture when he visited Sweden in connection with the Gothia Cup football tournament three years ago.
– It's such an organized country. I get a sense of community here that I don't get in Brazil. I find that where I come from people can be quite selfish, whereas here it feels more like a union.
Vitor's home university has an exchange programme with Stockholm University and his chosen study area was business and finance.
High quality and helpful people
Another business student, but with a focus on business and education, was Hyeon Jin Kim from Japan who got a good impression of Stockholm University when he was looking for places to study abroad on the internet. He also had the chance to get advice from a Japanese university friend who spent the autumn semester at Stockholm University.
– I expect high quality and helpful people here, Hyeon Jin said. The atmosphere is really good and I like being surrounded by beautiful nature.
Many opportunities on offer
In his welcoming speech the Pro Vice-Chancellor Professor Clas Hättestrand also stressed the uniqueness of the campus environment as Stockholm University is based in a royal national city park. He praised the students for having made the wise choice to study abroad and hoped that they would take advantage of all the opportunities offered by the university and the capital of Stockholm during their stay.
The importance of communication
The Student Health Care nurse Eliza Cedervall encouraged the newcomers to talk to each other and to remember that communication is the key.
– Don't be afraid to ask for help if you need it! That's why we're here, she said.
– And if you're out having fun one night and find yourself waking up in a bed that is not your own the following morning, thinking "Uh oh, what have I got myself into?"; call us. We'll sort you out.

Text: Karin Persson
Photo: Niklas Björling and Karin Persson