Expectations of high quality studies and new friends
Gender equality. Environmental awareness. Coffee lovers. Conscientious queuers. These are a few of the things you can expect to encounter in Sweden, according to Adriana Jimenez Moreno, host of Stockholm University's Orientation Day for international students that took place in the evening of 15 January.
"Are you ready for the Swedish experience?" Adriana asked the expectant audience in the Aula Magna auditorium.
"Yes!" was the unanimous answer.
"I think Sweden is a really nice place and that Stockholm is the best city in the Scandinavian countries", Economics student Tom Michael Ho said.
He had arrived from Singapore the same day and had chosen Stockholm University because of its good reputation in his subject area.
"There are Nobel laureates who have studied here so I think the quality should be very high", he said before indulging in the programme of the evening together with a group of newly found friends.
Getting to know a new culture
Erasmus exchange student Ilayda Onbilgin from Turkey was excited about getting to know a new culture and gaining enriching perspectives.
"I chose Stockholm University as Sweden is such a developed country. I am going to study Computer Science here and am looking forward to meeting a lot of new people."
Once her Erasmus exchange comes to an end Ilayda Onbligin will return to Turkey. However, should the opportunity arise, she is not foreign to launching a future career in Sweden.
A fan of the Swedish climate
For Political Science student Jacopo Geremicca from Italy it was not the first time in northern Europe. He has some relatives in Sweden but first and foremost chose Stockholm University as he thinks that higher education is better here than in Italy. The northern climate also appeals to him.
"I really like the cold. It's so nice."
Jacopo Geremicca visited Orientation Day in order to gather some useful information.
"I want to find out about Swedish courses and practical stuff like how to open a bank account."
Experiences of living abroad
Orientation Day was filled with information about important matters such as banking, healthcare, IT, student life, and Swedish language courses. Many of the speakers shared some of their personal experiences of living abroad and referred to the commonly known fact that you are often in a so called honeymoon phase at the beginning of your stay. After a while you are likely to experience a culture shock that could lead to a crisis that you overcome later on. Once it is time to return home you are probably on a high again.
Important to stay in touch
"Communication is the key", Student Health Services nurse Eliza Cedervall stressed. "Remember that we are there for you if you need us. Make new friends here but also remember to stay in touch with your friends and family at home. You may have left a boyfriend or a girlfriend at home who is worrying about how much fun you are actually having over here."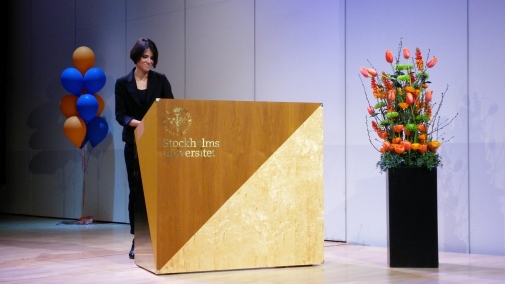 Making friends and learning Swedish
During the evening the audience was given the chance to share their expectations of their stay in Sweden by submitting words and phrases to a digital word cloud displayed on the large screen on stage. "Making friends" and "learning Swedish" were popular goals. The Orientation Day visitors' expectations also included "self knowledge", "fun", "independence" and "wedding".
Text and photo: Karin Persson