Sunny Orientation Day for newly arrived students
– I really want to live and study in Stockholm. It's such a safe, cosy place, said Aiste Treigyte in near-perfect Swedish as she made herself comfortable in the Aula Magna auditorium, where Orientation Day for international students took place on 24 August.
The sun was shining on the Frescati campus this pleasant late summer's afternoon and there was joy and excitement in the air as students from all over the world arrived, some straight from the airport with their suitcases in tow.
Aiste had already studied Swedish in her native Lithuania, and Stockholm University was the obvious choice when she wanted to pursue her studies abroad. Alongside Swedish she was going to study French and her future plans involved finding a job in Sweden.
Ready to start learning Swedish
German student Fabian Balk didn't yet possess any Swedish skills beyond the fairly basic "hej" and "tack" but was looking forward to embarking on one of the free Swedish courses offered by Stockholm University to international students. Fabian's main studies would be the master's programme in Environmental Sciences.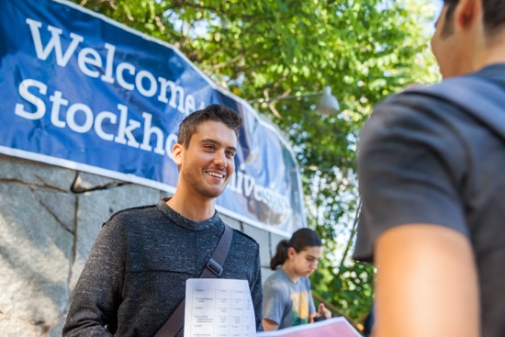 – I have been to Sweden before and I really like the education system here. It's quite different from the German system and I hope to keep what I learn in mind a bit longer. The Swedish way of teaching seems more sustainable.
Mattia Siena and Davide Luciano from Italy were eager to find out more about the Swedish academic system and how things work here. The two law students were also hoping to meet new people and had chosen Stockholm University as part of an Erasmus exchange.
Enjoy life while studying
Orientation Day was part of the Orientation Week when more than 1,200 international students are welcomed at Stockholm University. In Aula Magna Vice Chancellor Professor Astrid Söderbergh Widding gave a welcoming speech where she stressed how important it is to enjoy life while studying, as this enhances your studies.
The host of the day, Mr Ronald T. Nordqvist, guided the newcomers through a programme filled with information about the Swedish academic system, IT and library services, how to find your way on campus and many other useful things.
Musical quiz and dancing nurse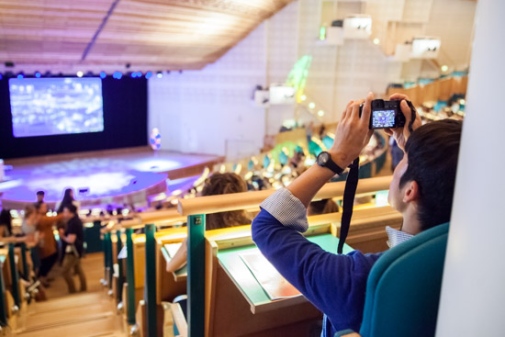 There was also a Swedish musical quiz, where the winner was to be awarded a Stockholm University bag and the honour of being photographed together with Mr Nordqvist, as well as appearing on the Stockholm University Instagram page.
– This week Stockholm University on Instagram is all about Orientation Week so do share your photos with us, Mr Nordqvist pleaded with the audience who seemed to be using their mobile phone cameras frequently, especially when dancing Student Health Services nurse Eliza Cedervall made a colourful arrival on stage.
Eliza Cedervall encouraged the students to follow her example and do regular exercise as part of a healthy life style.
– Remember to take good care of yourselves, to make friends and to ask for help if you need it. There are many of us here who can help you with lots of different things.
Meeting new people
Outside the auditorium there was an open fair featuring Stockholm University service units, student union associations and external exhibitors. The students were offered food and beverages and the chance to mingle and get to know each other.
– The most important thing for me today is meeting new people, said Fabian Balk. There are so many friendly people in Sweden and Stockholm is an amazing city.
Text: Karin Persson
Photo: Niklas Björling

Last updated: August 25, 2016
Page editor: Karin Persson
Source: Student Services