Tickets for a free Welcome Reception at Stockholm City Hall and the Nobel Museum
EVENT
Date:
24 September 2018, 9.00 AM
-
24 September 2018, 11.30 AM
Venue:
Studenthuset
On Sunday 7th of October, between 14:00 and 16:00, the City of Stockholm will welcome newly arrived international students to a free reception at Stockholm City Hall followed by a visit to the Nobel Museum at 16:00. More information in the pdf below.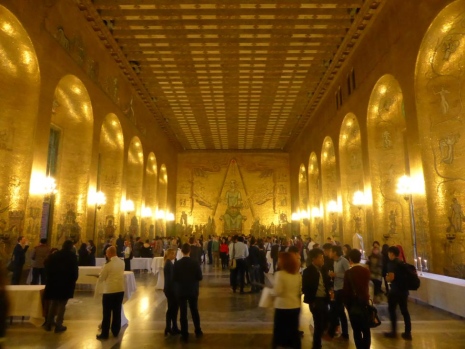 How to get a ticket
The tickets will be distributed on Monday 24th of September from 09:00 to 11:30 on a first come, first serve basis. You can only collect a ticket for yourself (not for a fellow student). There are a limited amount of tickets available.
Where to get a ticket: Studenthuset, level 2, next to the Infocentre
Address: Universitetsvägen 2B
When: The tickets will be distributed from 09:00 to 11:30, Monday 24th of September.
What to bring when you collect a ticket
1) You must bring your passport or a National ID (with a photo). A Stockholm University student card is not an ID card.
2) Letter of Acceptance from Stockholm University, electronic version is OK.
Please note! The ticket is personal and you will not receive a new one if you lose it. The reception is only for international students that arrived in August/September 2018.