Academic Pride Flag for Digital Festival
The COVID-19 pandemic does not stop the fight for LGBTQ rights. Stockholm Pride 2020 was broadcast live digitally under the name Stockholm Pride Summer Stream. As usual, several of Stockholm's higher education institutions were participating under the joint Academic Pride banner, which brings together both students and employees from seven higher education institutions.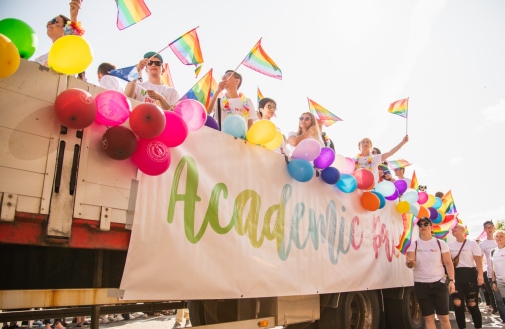 "Stockholm University takes active measures to promote the rights and opportunities of all employees and students, regardless of sex, transgender identity or expression, ethnicity, religion or other belief, disability, sexual orientation or age. This work takes place every day of the year and aims to create a safe and inclusive environment to work and study in," says University President Astrid Söderbergh Widding.
Restricted rights during the pandemic
During the pandemic, several countries have severely restricted the rights of LGBTQ people, while the opportunities for peaceful demonstrations and protests have been substantially limited. Important legislative changes are being pushed into the future and in quarantined countries many young people are being forced back into parental homes where they are not fully accepted. Over 500 Pride festivals around the world have been canceled or postponed.
Important to stand united
"Although this year we cannot gather in the streets and plazas, it is more important than ever to find ways to support each other, make new acquaintances, share experiences and new knowledge, and not the least celebrate the successes that the past year has offered.We stand united in our work for equality for LGBTQ people, work that is going on year round and that is extra important now in a hardening climate where we see a decline in LGBTQ rights in several countries and an increased threat to LGBTQ people and organizations," say representatives of Academic Pride in a joint statement.
Read more about the 2020 program on Stockholm Pride's website.
Academic Pride
Academic Pride is a collaboration around Stockholm Pride between several of Stockholm's higher education institutions and their associated student unions: Ersta Sköndal Bräcke University College, Hyper Island, Karolinska Institutet, KTH Royal Institute of Technology, Sophiahemmet University, the Stockholm School of Economics, and Stockholm University.

Participation in Pride is arranged together with the student unions of the various schools, including Medicinska Föreningen's LGBTQ association Queerolinska at Karolinska Institutet, the Rainbows association at Stockholm University (an association for LGBTQIA+ students), and the Student Association at the Stockholm School of Economics (SASSE).

Contact
For questions regarding Stockholm University's participation in Academic Pride, please contact: Parasto Rosencrantz, Coordinator for Equal Treatment of Students, Student services at jamlikhet@su.se.
See also su.se/jamlikhet.