Stockholm University and Agenda 2030
The purpose of Agenda 2030 is to eradicate poverty and hunger, promote good health and education, increase equality, ensure human rights for everyone, and promote peace and sustainable development. On 25 September 2015, UN leadership at the world, state and governmental levels adopted Agenda 2030 for Sustainable Government.
Sweden has the best foundation for meeting goals
Agenda 2030 has 17 global goals. The global goals are integrated and inseparable and balance the three dimensions of sustainable development: economy, society and the environment.
According to the OECD report, the country with the best prerequisites to achieve the goals is Sweden. The Swedish government's premise is also that Sweden should be a leader in the work to realise the goals through governmental agencies at the city, county and national levels. The governmental offices of Sweden need to contribute to reaching the goals by the engagement of not-for-profit organisations, business, unions and academic institutions is also necessary.
The Swedish government established a delegation in March 2016 with the task to support fulfilling the Agenda 2030 goals. They will help by creating an overarching plan together with drawing attention to good examples in the various areas. The delegation consists of seven members: Parul Sharma, Ida Texell, Mattias Klum, Ingrid Petersson, Johan Hassel, Johan Rockström och Johanna Sandahl.
Stockholm University and Agenda 2030
Sustainable development is a central to Stockholm University. The university is engaged in numerous projects within both natural and human science, and its research and education touch upon and help in the achievement of Agenda 2030's goals. Stockholm University's other strengths include the tradition of interdisciplinary research as seen in its profile areas and in its work within the society through open lectures, participating in governmental commissions and contributing to public debate.
Sustainability emphasised in university education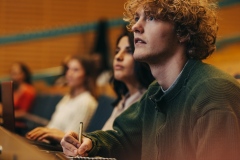 Because Stockholm University has a wide array of educational offerings and a large number of students, many of whom are international, it can share knowledge about issues concerning sustainability and feature this perspective in its education.
Stockholm University also promotes the development of innovative knowledge from those at the university, both teachers/researchers and students.
Environmentally certified employer
Stockholm University works toward Agenda 2030 as a large employer in Stockholm. For example, the university is environmentally certified and the university board has decided not to invest in fossil fuels.
The link below contains concrete examples of how research and education connect with the goals of Agenda 2030.
Further information (in Swedish) on how Stockholm University works with issues surrounding Agenda 2030 can also be found below.