New index shows Stockholm University publication expansion is world-class
Stockholm University's increase in scientific publishing is among the top internationally. According to the Nature Index Rising Stars, it rates number 32 in the world.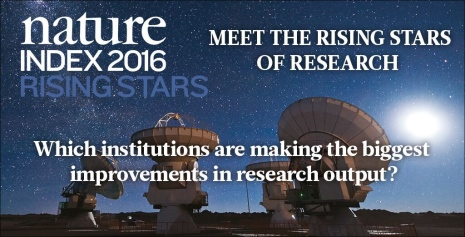 Image: Macmillan Publishers Ltd

The Nature Index 2016 Rising Stars was created by the publishers Springer Nature which, among other things, produces the prestigious scientific journal Nature. The index, published on 27 July, rates the impact of research from 2 000 universities and research institutes in 150 countries based on their publications in 68 elite scientific journals (primarily in the hard sciences). Springer Nature uses the index to call attention to which educational and research institutions are successful in increasing their scientific publication profile.
Stockholm University 32nd in the world
The list of "rising stars" in the world is topped by the Chinese Academy of Science, which is followed by eight more Chinese universities. The top of the list includes a number of other Asian universities and even ones such as Stanford and Oxford. Stockholm University is also at the front of the pack at 32nd place, and first among Scandinavian universities. Lund University comes in at 73rd and Umeå University at 93rd. Among the Western European universities, Stockholm is 6th after, among others, Oxford University and the Imperial College in London.
"It's gratifying, of course, to have done so well in this context," says the university's Vice-Chancellor Astrid Söderbergh Widding in a comment.
Sweden well placed on the country list
The Nature Index rates countries as well as institutions. China takes first place among countries that have increased their scientific publishing. Saudi Arabia, India, the United Kingdom, and Russia are other countries that have made significant progress in scientific publication. Sweden is 7th on this list.
Methodology for the index
The Nature index rates institutions in four areas. The "Article Count" gives a point for any article that has one author from that institution. The "Fractional Count" considers how big that author's contribution is to the article. The "Weighted Fractional Count" adjusts for a discipline-wide overrepresentation of astronomy and astrophysics. Finally, the "Collaboration Score" looks at how many different institutions are collaborating with each other.
Stockholm University ranking news