Bilingual book will promote integration
A few students in the course on publishing studies have started a publishing house and are about to publish their first book – a children's book in both Swedish and Arabic. They are trying to have the book distributed in refugee homes.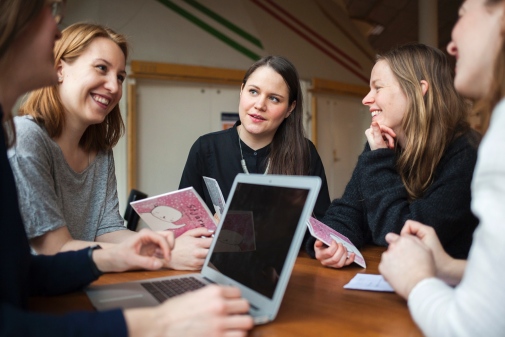 "We have friends who are doing volunteer work in refugee homes, and they have told us that there is a major lack of children's books," says Karin Wändahl who has written the text and come up with the idea for the publisher's first book.
Everyone at the publisher Lilla Björn has a strong commitment to the migration issue and argue that it is more important for the book to contribute to something good than to make a big profit. For each book sold, the publisher will donate a book to a newly arrived family.
"The book can be read in both Swedish and Arabic, so even Swedish families can buy it and read it to their children," says Anna Nord who is also involved with the company.
It all started as a course assignment where students were supposed to present a fictitious publishing house. The group continued to work on the publishing idea during the next course unit, and they were told by their teacher that they could receive help from the Innovation Office at the University.
Help from the Innovation Office
"We have received tremendous help from the Innovation Office! They have strengthened us in our belief that we have a good idea, and we have received lots of valuable information and help along the way," says Karin Wändahl.
The students have also received help from elsewhere. Emma Lindhagen from the Department of Asian, Middle Eastern and Turkish Studies has helped proofread the Arabic text.
The picture book Stjärna från morgon till kväll (Star from dawn to dusk) will be the publisher's first book. The book will be published via print-on-demand, which means that it is only when somebody orders a book that it will be printed. This gives the publisher the opportunity to publish the book without investing too much money.
What is new with the publisher's idea is that the book is mirrored, that is, it can be read either forwards or backwards – and that it is bilingual. It was important to the publisher that the book was not a Swedish book translated into Arabic, but that it was conceived as a bilingual book from the beginning.