Delegation to Southern Africa
In March, Vice-Chancellor Astrid Söderbergh Widding visited Botswana and South Africa. Together with twelve other vice-chancellors, she was a part of a Swedish delegation led by the University Chancellor and the Executive Director of STINT. The trip was organized by the Swedish Higher Education Authority (UKÄ) and the Swedish Foundation for International Cooperation in Research and Higher Education (STINT).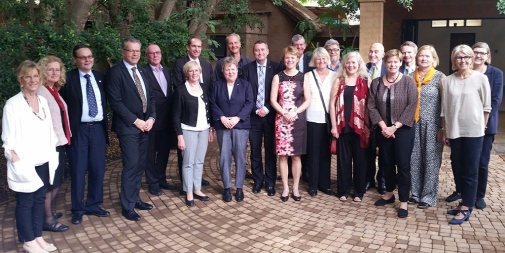 The delegation visited the University of Johannesburg, University of Pretoria, University of the Witwatersrand, Stellenbosch University and the University of Botswana, and met the management of the Botswana International University of Science and Technology (BIUST). They also had meetings with representatives of research funding bodies and the political leadership of both South Africa and Botswana. The trip concluded with a workshop in Cape Town, to which vice-chancellors of all higher education institutions in South Africa were invited.
Representatives from four Swedish research funding bodies were part of the delegation together with the State Secretary and Sweden's Ambassador to South Africa who both participated during parts of the trip. The purpose of the tour was to develop and deepen existing partnerships as well as to initiate new collaborations.