Stockholm Resilience Centre introduces new leadership group
Line Gordon appointed as centre director, Victor Galaz becomes deputy director and Carl Folke new chair of the Stockholm Resilience Centre's governing board.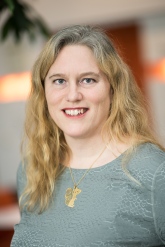 Current deputy director, associate professor Line Gordon has been appointed the new director of the Stockholm Resilience Centre (SRC) following Johan Rockström's move to Potsdam Institute for Climate Impact Research, Germany.
Current deputy science director and associate professor Victor Galaz will become the centre's deputy director.
Gordon and Galaz start their new roles on 1 August 2018.
Science director Carl Folke will work closely with Gordon and Galaz by becoming chair of the SRC's new governing board.
The recruitment process was led by SRC's international board, and the appointments were made by the president of Stockholm University, Astrid Söderbergh Widding.
More information: www.stockholmresilience.org